New vistas opened for India-Russia strategic partnership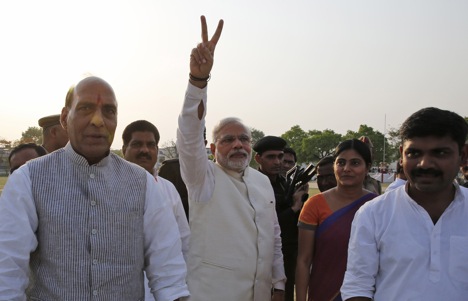 Modi will seek more opportunities for Indian investments in Russian economy, especially in diamond mining and hydrocarbons. Source: AP
The historic victory of the Bharatiya Janata Party (BJP) led by its prime ministerial candidate Narendra Modi in the just concluded Lok Sabha elections has opened new vistas in the traditional India - Russia friendship and their strategic partnership.
Although there is a prevalent view among Indian and Russian scholars that the BJP is a pro-American party, one should not forget that it was Prime Minister Atal Behari Vajpayee's government that signed the strategic partnership declaration with Russia during President Vladimir Putin's maiden India visit in October 2000.
Being a genuine democracy, Indian governments assure continuity of the foreign policy and the Vajpayee-led government of National Democratic Alliance (NDA), exactly did the same by further advancing the Nehru- Gandhi foreign policy of good and friendly relations with Moscow as it was always based on the vital national interests of the two countries.
Modi has thrice visited Russia, once as a member of Prime Minister Vajpayee's official delegation at the Moscow summit talks with President Putin. Later as Gujarat Chief Minister he twice visited Russia's Astrakhan. The Russian region on the Volga is a key bridgehead on the North-South International Transport Corridor, which begins from Gujarat via the Arabian Sea, Persian Gulf, Iran and Caspian Sea to Russia, and has been virtually blocked by the US sanctions on Iran.
It should not be a surprise that in response to Russian President Vladimir Putin's congratulations on his party's resounding victory Narendra Modi tweeted: "looking forward to making our relations with Russia even stronger in the years to come." He also underscored that India-Russian friendship has withstood the test of time.
Incidentally, in spite of obvious differences, one thing is common for Putin and Modi - both are highly popular in their countries, but despised by the liberals. Perhaps, this commonality would help them develop personal chemistry and further advance bilateral relations, when they first meet at the BRICS Summit in Brazil in mid-July.
Russia has never fomented trouble for India through its neighbours. Besides this, Moscow is a reliable supplier of defence technologies denied to India under various US- dominated control regimes. Which country would lease nuclear submarines to India and help her build its own nuclear underwater fleet?
Russia is the only country of the world with which India has a highly structured dialogue mechanism from annual summits to joint commissions on military-technical , trade, economic, scientific, technological and cultural cooperation headed by Defence and External Affairs ministers respectively.
Moscow also appreciates New Delhi's stance on various issues, which have bearing on Russia's long term interests. In the recent case of Ukraine, India expressed understanding of Russia's national interests in Crimea and refused to join the Western sanctions. Addressing the joint session of the parliament in March, President Vladimir Putin appreciated India's "restrained" reaction on the Crimea reunification with Russia.
Shortly after the Crimea reintegration, Indian Foreign Secretary Sujata Singh visited Beijing and Moscow for consultations signalling New Delhi's unwillingness to get involved in the West - Russia row over Ukraine.
However, not everything is smooth and perfect in bilateral relations spanning from high up in space to deep oil wells.
On the backdrop of excellent political and defence relations, the economic cooperation and trade are a weak pillar of strategic partnership between the two countries. The bilateral trade for many years is wobbling around $10 billion. Modi, whose native state of Gujarat has benefited from the growing trade of rough diamonds and liquefied natural gas (LNG) from Russia, will seek more opportunities for Indian investments in Russian diamond mining and hydrocarbons.
The West's desire to punish Russia through crippling sanctions could be a boon to Modi's India. India had a thriving trade with Moscow, when ex-USSR was under a plethora of Western curbs and sanctions.
Another matter of concern for the Modi government would be the quality of Russia's arms trade with China. India is obviously envious of Moscow's growing bonhomie with Beijing. However, the potential export of sensitive defence technology to China by Moscow could have an adverse impact on the national security of India as Russian military technology would eventually reach Pakistan via China.
Moscow also faces a new challenge in defence cooperation as BJP has declared the goal of obtaining self-sufficiency in defence. To retain its lead in the Indian arms bazaar, Russia will have to reformat future military-technical cooperation with India along the lines of BrahMos cruise missile joint venture, joint R&D and production of weapon platforms like fifth generation fighter aircraft (FGFA).
Among many issues which have impact on the security of their countries, stability in Afghanistan, Central Asia, non-proliferation and anti-terror combat will also continue to remain the priorities of closest cooperation between New Delhi and Moscow.
All rights reserved by Rossiyskaya Gazeta.