India should adopt Russia's version of enforced fitness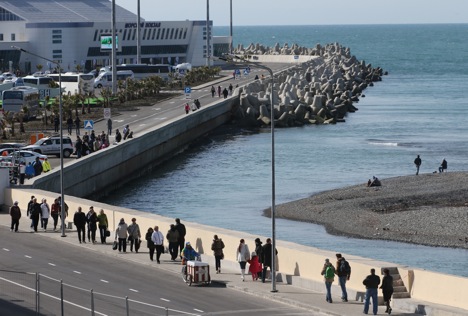 People tend to walk a lot more in Russia than they do in India. Source: RIA Novosti / Igor Zaremdo
We just don't walk as much as we should in Indian metros. Planned Indian cities of the future need shaded streets with broad sidewalks and lesser modes of cheap transport to ensure that people walk more every day.
Although lifestyle diseases are starting to rear their ugly heads in Russian cities, the country isn't even close to flirting with diabetes and coronary heart disease the way India is at the moment. Increased prosperity and a growing middle class in both countries have led to a rise in sedentary lives but there's a big difference with the basic lifestyle of the urban Russia and his Indian counterpart: The amount of time spent walking in day-to-day life in both countries.
We have it extremely easy in Mumbai and Delhi. Cabs and three-wheelers are aplenty near any metro or suburban train station. They are relatively inexpensive, especially for the white-collar crowd and create generations of lazy people who would hesitate even to walk a kilometre to their offices. I will concede that some sidewalks are overrun in India's financial capital with hawkers and it can be a difficult exercise walking on them and not being forced on to the roads to battle traffic, but then this is something the authorities have to fix.
In Russia, where three-wheelers don't exist, taxi rides definitely burn a hole in the wallet and besides the gypsy cabs, it's difficult to get a taxi from a metro station for a small distance. To get to the RIR office for instance, it's a 15-minute walk from both of the nearest metro stations. A large number of media publications are located in the vicinity of our office, so journalists do their fair share of walking. For those who have a long daily commute between work and home, it isn't that much easier on the way back. Many housing blocks are also away from the train stations ensuring another kilometre or so of walking. A close colleague of mine is the envy of the newsroom since he stays just one metro station away, a real luxury for Moscow, but then his house is at least a 20-minute to the station. (This particular gentleman drives to work, except of exceptionally lovely days, but that is beside the point). In many cities in Russia, housing blocks are also a 10-minute walk away from the nearest bus stop. It just seems that no matter where one has to go or by whatever mode of public transport, a walk is a must.
In the warmer months, Muscovite and St Petersburger friends of mine don't nearly take as much advantage of the beautiful parks and neighbourhoods in their cities as they should, but none the less, they still have to contend with the enforced fitness of day to day life. Russians have a distinct advantage in the fitness department since extreme cold is more conducive to long walks then the opposite. When I lived in Sakhalin, a visitor once asked me how much time I took to get to work. He burst out in laughter when I said it took 10 minutes in the summer and 20 in the winter. The difference between the seasons being the icy roads and mounds of snow and the frequent snowstorms that I had to battle on the way…
We have it much easier in Mumbai and Delhi with our auto rickshaws. Those living in the Indian capital have a point that walking in the streets during the city's summer, when the northern Indian sun is at its worst, can be suicidal. But then it's no excuse to waste away the beautiful cooler months in the city. Those who complain about the humidity in Mumbai should just wear deodorant and dress lightly. It's trendy for a large number of offices to not insist on "extremely" formal attire. Traditional Indian fabrics are more suitable for local weather conditions. Yes, the monsoons are coming soon, but then rubber boots are a great way to keep your feet dry and not get stuck in traffic on flooded days.
Several new planned cities are coming up in the Delhi Mumbai Industrial Corridor, where provisions are being made for a healthy lifestyle. In principle, compact cities with a small commute would ensure more leisure time for people to engage in healthy lifestyle choices but then that may just ensure that people waste more time on indoor activities. Ideally a city with broad and shaded sidewalks and a lack of too many modes of cheap transport would help a long way in ensuring its residents are fit. It's only when people are forced to walk, that they will.
The benefits to walking aren't just physical and even short walks can be a great stress-buster. A combination of the fresh air (air-quality is often worse indoors even in polluted places) and mild exercise is a wonderful way to boost one's mood and morale. It's also the one form of exercise that does not come with any kind of injury risk. Even a couple of kilometres a day can be the difference between being fit and overweight.
All rights reserved by Rossiyskaya Gazeta.