On May 27, my native city celebrated its 311th birthday. There is a poem by Sergei Yesenin called "Letter to a Woman", which is about love between a man and woman, but I really like one part of it, which is suitable for many situations:
Face to face
A face is unseen
The truth can be seen only at a distance.
This is exactly what happened to me, I left St. Petersburg three years ago for Moscow without any feelings of sorrow and nostalgia. But after some time realized how much I love Piter (this is how inhabitants call it), I go there every month to see my family and friends, to just walk on the streets and visit places which have played an important role in my life. And I'm 100 percent sure that one day I'll come back. So in honor of the city's anniversary I would like to present my 15 personal reasons for loving St. Petersburg.
1) Opening bridges – yes, I agree it's one of the most touristy things, but still watching the bridges open at night is a must for my summer walks. It's funny though that many visitors see it only as a tourist attraction - this is not true. Petersburg is one of the biggest ports in Russia, so the bridges open to let ships pass along the Neva River.
2) Riding bikes along the embankments – while there are not so many parks in St. Petersburg compared to Moscow, the embankments are perfect for cycling, especially during the White Nights (May-July).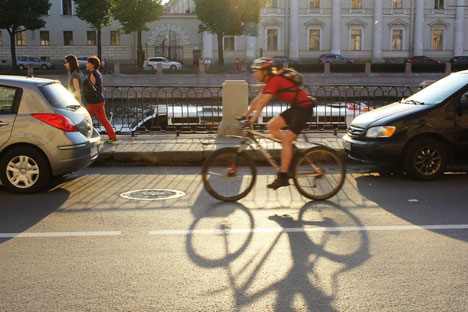 The St.Petersburg embankments are perfect for cycling. Source: Elena Bobrova
My favorite route starts at the Ploshchad Alexandra Nevskogo subway station), then I ride all the way along the Sinopskaya and Smolnaya embankments, then cross the Liteiny and Sampsonievsky bridges, where you can see the legendary cruiser Aurora and Troitskaya Square (one of the oldest in the city), and Kronverkskaya Embankment, which finally leads you to the Spit of Vasilievsky Island.
And in recent years the bicycle infrastructure has improved a lot, so you can find English speaking bike tours and rental stations in the city center.
3) Drinking beer on the embankments – although it's officially forbidden to drink alcohol in public places there is nothing better than to drink a cold beer with friends on a hot sunny day (the pier at Leitenant Schmidt Embankment, close to the Mining Institute, is my favorite place). Be ready to hide your bottle though if a policeman shows up!
4) History is everywhere in the city center. St. Petersburg is a real gem for those who are interested in Russian history, because it was the capital for two centuries and many ordinary houses from the end of the 19th century and the beginning of the 20th have been preserved.
5) Water, rivers and canals – St. Petersburg is often called the Venice of the North, because it's situated on about 40 islands. Peter the Great, the founder of the city, forbade the building of bridges in the very beginning and wanted everyone to get around by boat.
The Fontanka river. Source: Elena Bobrova
On the other hand, the water had a negative impact, because the city suffered a lot from flooding, and on some buildings you can still see special marks which show the water level during inundations in the 19th century. Now boat tour is also an absolute must for tourists - last year I finally went on a boat disco, organized by the Purga bar, where they celebrate New Year every night.
6) Kolomna is one of the districts in the city center (the closest subway stations are Sennaya Ploshchad/Sadovaya/Spasskaya). Just go along the Griboedova Canal to the heart of Kolomna, the St. Nicholas (Nikolsky) Cathedral and the Mariinsky Theater.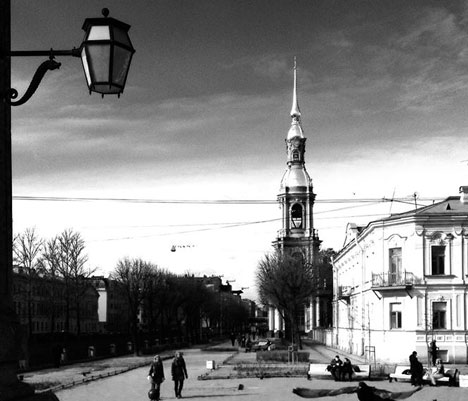 Kolomna. Source: Elena Bobrova
I spent my two last years of school at a school which was demolished because of the construction of the Mariinsky Theater's second stage, so I walked a lot after our classes and fell in love for the first time feeding birds with my classmate near the Nikolsky bell-tower.
7) Watching the city from above – the center of St. Petersburg doesn't have any tall buildings (except cathedrals) because from 1844 to 1905 there was a rule that buildings could not be higher than the tsar's residence, the Winter Palace (which now houses the world-famous Hermitage Museum).
So if you climb up to the colonnade of St. Isaac's Cathedral or the Smolny Cathedral you'll get an amazing view of the flat city. If you are lucky enough to know some daredevil locals, then you might also get the possibility to visit the rooftops. In 2011 my best friend organized her hen party on one of the city's roofs.
8) Communal apartments appeared after the 1917 revolution, when the flats of the former bourgeoisie were divided up and given to several families, usually peasants or workers. Each family had its own bedroom, but had to use shared a kitchen and bathroom. Even after 100 years these apartments still exist in the city center and represent living history.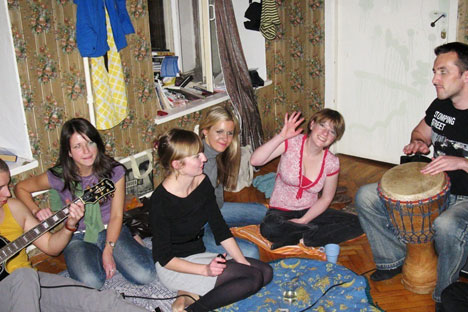 A party in a communal apartment (kommunalka). Source: Elena Bobrova

Interestingly, such flats are also popular among young people and even expats who rent out apartments in the city center. In 2009-2011 I lived with five friends in a four-room apartment at Sennaya Ploshchad - for sure the best parties were held in that place. Our friends lived one floor up, so it also sometimes happened that a party would start at our place and then move to our neighbors' apartment.
9) Charity shop Spasibo is the first charity shop in Russia, opened in May 2010 by one of my best friends and former flatmate Yulia Titova. She was inspired by this business model in the UK and U.S., so she founded her own in St. Petersburg.
She started by collecting old clothes, and the first Spasibo storeroom was actually our room; later she opened her first shop. After four years they now operate two shops, host charity events, give lectures about the eco lifestyle, along with concerts and workshops for those who wish to open such shops in other cities.
10) The Upsala Circus is another charity project I've supported and worked for. At their performances you meet kids from groups at social risk who finally have a healthy alternative to their street lifestyle and eventually become splendid circus artists.
The troupe has been around for 14 years, and they usually have performances every weekend. They hold an arts and theater festival called "Flying Kids" in September and go on a European tour each summer, which usually includes Germany, Great Britain and France.
Flying kids 2013. Source: YouTube

11) Nightlife – it's funny, but all my favorite nightlife places were founded by a woman from Germany called Anna-Christin Albers, who established the bar Dacha 10 years ago as an answer to the lack of affordable, inclusive places in the city.
That one bar on Dumskaya Street led to a blooming of independent bars and clubs, another notable one of which is Fidel. They offer reasonably priced alcohol and great music from the Beatles to Blur and rock and pop hits from the 70s and 80s. I would say these places formed my musical taste and introduced me to the rock classics, which you can barely hear on Russian radio stations.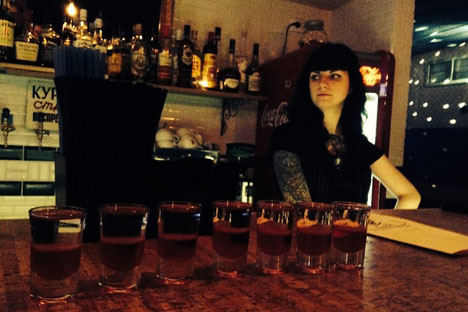 Bar Poison. Source: Elena Bobrova
Anna's other places are karaoke bar Poison (which now has three locations, including a non-smoking one at Rubinsteina Street 13), where there are only songs in English, and summer place Dunes on Ligovsky, an open-air "beach bar" 10 minutes' walk from the Moskovsky Railway Station.
12) Summer festivals and open airevents – St. Petersburg is often called the cultural capital of Russia. You especially feel it during the summer, when festivals are taking place every weekend and sometimes it's even hard to choose where to go, you can find everything from classics to jazz. But for me these festivals are a must for visitors.
13) The yards in the city center, also referred to by locals as "well-yards". These dark, claustrophobic yards were formed during the 1800s and early 20th century when house builders were interested in saving as much space as possible.
Usually they do not even have green trees or a playground, and can bring on a depressive mood, because you feel as if you are in a stone sack. Still they are a never-ending inspiration for photographers. One of my favorite yards isn't a well-yard, it's the inner yard of the Fountain House (Liteiny Prospekt 53), where the poet Anna Akhmatova lived.
14) Local bands – in the 70s and 80s Leningrad was famous for its underground rock bands, such as Zoopark, Viktor Tsoi's band Kino, and Boris Grebenshikov's group Aquarium. At the moment I think the most famous St. Petersburg group is Leningrad, who play ska and rock.
Leningrad - WWW. Source: YouTube
My other favorites are Billy's Band, who claim to play "alkojazz", and Markscheider Kunst.
Billy`s band - Let's have fun the St. Petersburg way. Source: YouTube

15) The so-called "sleeping districts" - if you are tired of the historical center, just go to the city's outskirts, where you can see enormous areas full of Soviet tower blocks dating from the 60s to the late 80s,which for sure has its own aesthetics. Just go out to the Primorskaya, Prospekt Prosveshcheniya, Obukhovo or Kupchino subway stations.
I was raised in the last one of these and have to admit that this district is really depressing in winter and fall, but not as dangerous as Wikitravel claims. In summer it's really nice with its vast green areas and shopping malls. Billy's Band even wrote an unofficial hymn for Kupchino:
Billy`s band - Kupchino is the capital of the world. Source: YouTube
All rights reserved by Rossiyskaya Gazeta.