Public Editor 10: Ethnic tension, displaced Ukrainians and the World Cup begins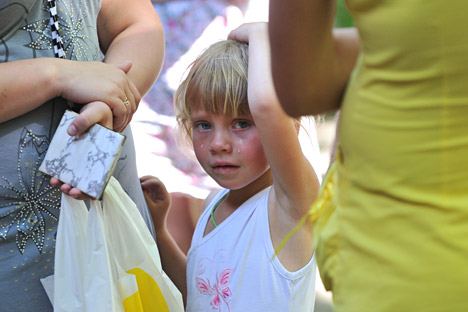 Refugees from Ukraine in Rostov Region. Source: Sergei Pivovarov / RIA Novosti
RBTH fans on social media reacted this week to stories about the diversity of Russia's various regions, the ongoing crisis in Ukraine and Russia's return to the World Cup after a 12 year absence.
One of the most commented and discussed posts on our Facebook page this week was a map of ethnic tensions in various Russian regions.
Readers pointed out some interesting points made by the map, primarily that there were very low levels of ethnic tension in Chechnya, which is in public opinion a hotbed of ethnic violence, and high levels in Tatarstan, which is considered a place where people of different faiths and ethnicities lives peacefully together. I would argue that in a place such as Chechnya, ethnic tensions are low because the people who live there are primarily one ethnicity – Chechen. Regardless, the map should have had a better explanation of what is being shown and how the categorizations were made.
Another hot topic for RBTH this week was how to handle the reports of Ukrainians leaving cities in the southeastern part of the country where fighting continues between separatists and Ukrainian army forces. The Western media has largely ignored this story while the Russian media has reported on the situation only from the Russian point of view. Because of the sensitivity of the subject, we chose to report only the facts that could be verified and clearly note where the information was found. Certainly the displacement of people in southeastern Ukraine is worth covering, but this is a story with far more gray than black and white, and so any discussion of the topic should be handled very carefully. Our readers for the most part commented on the text with hopes that the violence would soon end and those who left could return to their homes.
Finally, apparently the only topic that could bring out a response from our readers to rival the debate over who won World War II is discussion of the 2014 FIFA World Cup. As the tournament opened, we ran one story noting that 20,000 Russian fans were expected to travel to Brazil for the games, and that 500 of these were considered "violent fans." Our Facebook readers had a field day with the story's subhead, which admittedly should have been more carefully written. You can follow all the World Cup coverage on our site at rbth.com/2014_world_cup.
All rights reserved by Rossiyskaya Gazeta.