Stability in the subcontinent is critical for the success of Russia's Asia pivot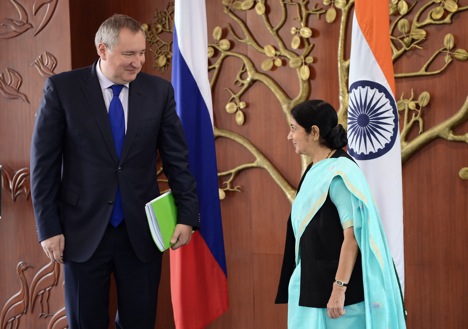 Sushma Swaraj raised India's concerns about Russia's potential supply of Mi-35s to Pakistan. Source: RIA Novosti
Bringing India and Pakistan together in groupings like the SCO and pushing for gas pipeline projects will speed up economic integration in a region stretching from Russia through Central Asia up to the Indian subcontinent.
Despite the Indian media's attempts to raise the rhetoric over Russia's planned sale of Mi-35 helicopters to Pakistan, those in power in Delhi handled the situation in the best possible manner. Indian concerns were conveyed to Russia when Sushma Swaraj met Dmitry Rogozin in Delhi yesterday, but it is quite clear that neither country wants to sabotage an almost model bilateral strategic relationship over something rather inconsequential.
It's obvious that there are vested interests at work that are looking to use the Indian media to drive a wedge between New Delhi and Moscow. Such was the amount of garbage analyses on the net about a Russian "betrayal" that one would have thought that Pakistan was being gifted dangerous weapons for free! There isn't even a hint of protest from so-called strategic analysts when countries like the US, UK and France supply weapons to Pakistan. (Let alone, protests when Washington pumps in billions of dollars in aid that is then used by Islamabad to increase its nuclear stockpiles) Are we to believe that the Pakistani army won't use these weapons against India in a war? The hard reality is that a war between Pakistan and India is next to impossible now. The neighbours haven't fought a full-scale war since 1971. The Kargil conflict came to quick end after the Indian Army evicted Pakistani intruders, simply because Pakistan was well aware that it could not have defeated India in a conventional war and that it would be committing hara-kiri if it even dared to think of the nuclear option.
India and Pakistan may never become best friends but a stable and workable relationship between the countries is a must if this is going to be the Asian century. Prime Minister Narendra Modi has made the right overtures with Islamabad and there is definitely fresh momentum in the process to normalise relations between the hostile neighbours.
Russia clearly realises the importance of stability in the Indian subcontinent and has tried to nudge India and Pakistan to develop relations in areas of convergence. With the Eurasian Economic Union coming into force on January 1, 2015, there is immense potential to integrate the region stretching from Russia via Central Asia through Afghanistan and Pakistan into India. Gazprom has shown interest in the TAPI pipeline that would supply gas to India from Turkmenistan, and there has also been talk of Russia constructing a similar pipeline, in a bid to supply India with more gas. As long as Russia acts as a guarantor in that pipeline, there is very little chance that Pakistan will interrupt supplies to India.
Moscow has also pushed for and supported the membership of India and Pakistan into the Shanghai Cooperation Organization (SCO). This increasingly influential security grouping is looking at ensuring stability in Central Asia in the wake of the withdrawal of international troops from Afghanistan. This is clearly an area of convergence between India, Pakistan and Russia, with all 3 countries facing the threat of a burgeoning drug trade and terrorism. Given how the Pakistani Taliban has become a threat to its very creators, supporting the original Afghan version will not pay dividends for Islamabad.
No player in the region wants the events taking place in Iraq at the moment to be replayed in some form or the other in Afghanistan. It's clear that what emerged from the mess left by George W. Bush is going to create a major problem for the global economy. If this Islamic State of Iraq and Syria keeps gaining momentum, we're staring at $200 per barrel of crude! A stable Afghanistan is the need of the hour for all the regional players.
India should actually welcome greater engagement between Russia and Pakistan, since Moscow would never do anything detrimental to Indian interests. Russia would never use Pakistan as a proxy to slow down Indian growth the way the West has been doing for the last six decades. Many believe that Russia would actually be the right country to rein Pakistan in, something that the U.S. would never ever be ready to do.
More importantly, as an emerging world power, India should rise above the pettiness of regional politics. China has a far from ideal relationship with most of its neighbours, but refuses to be allowed to be defined by them. The country has become such a behemoth in the last 20 years that the world focuses on its economic might and little else. With a stable government and a highly competent prime minister, India has its greatest opportunity to emerge as an economic giant. A secure and powerful nation would not need to worry about what its neighbours are up to and who they get friendly with.
All rights reserved by Rossiyskaya Gazeta.