Pleasant encounters on the streets of Moscow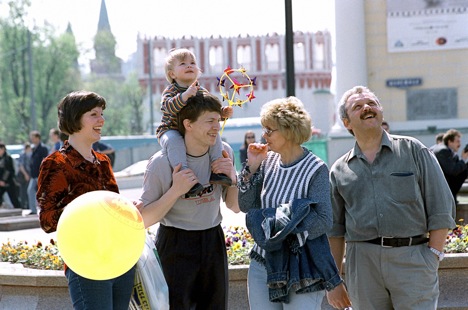 Who says Muscovites are not friendly? Source: RIA Novosti
Muscovites really do not deserve the kind of reputation that they have in smaller and distant parts of the country.
When it comes to how the city is looked upon by those from the regions, Moscow is kind of like Russia's Delhi and Mumbai combined. The fast pace of life and everyone running to get somewhere on time, reminds one of similar scenes in India's financial capital. The VIP culture and the heavy presence of officials and the 'perceived snootiness' is similar to Delhi. As someone who spent far more time in a smaller region in Russia than in the capital, I have tended to look at Muscovites through 'provincial eyeglasses.' But the more time I spend in the great city, the more I realise how my perceptions have been wrong.
I personally don't drift too far away from the city centre when I am in Moscow, simply because I am familiar with this part and basically know where to get whatever I want. But the temptation of buying some nice handmade shawls for family back in India took me to unfamiliar territory with a hardcore Muscovite, who was also not an expert about that particular area.
According to the shop's website, its location was just 300 metres away from the Oktyabarskaya metro station. When we had difficulty finding the place, we realised that the battery on the one smartphone among us was dead. So that was the end of Google Maps. We turned our attention to a passer-by for help. Although it was a Saturday, the young woman looked stressed as she ran up the stairs from the metro station. Since there seemed to be no other pedestrian on a ridiculously cold late-June day, we had no choice but to approach the woman who could have passed off for a supermodel. She didn't know where the place was, but she decided to search on her phone and tried her best to help us. We'd seen helpful strangers in many places, but this sure was a first.
Sometimes Google gets things wrong, so we ended up on the wrong street, but one with tremendous character: Old churches, a tramline and a station that preserved some vintage trams! The neighbourhood had everything that the main areas in the city centre of Moscow seemed to lack, such as normal small shops, a pharmacy, and residential buildings with mini-parks in their compound. There also came the second looks that a visible outsider could not imagine in the Russian capital.
While we enjoyed the charms of the neighbourhood, our main mission was to find this ever-elusive shop. So, we asked the next person we saw and the encounter seemed too unreal to be true. "Respected people," was the way he chose to address us. This was straight out of pre-Bolshevik Revolution Russia. I had never heard such a classy and elegant explanation of instructions before in my life! His diction, his tone, every single thing about that middle-aged man reeked of class. His instructions led us through another charming lane with parks and an old church and the eerie feeling of being in the early part of Boris Pasternak's Dr Zhivago.
We had to throw in the towel as the instructions from both the kind Muscovites didn't help us find this shop before its listed closing time. Of course, the joy of exploring these areas and meeting these people was worth the trouble.
The acid test of Muscovite courtesy would happen a bit later that evening. Despite the unusual cold, the sun fought off the clouds and rain and a rooftop restaurant and bar was where a lot of people wanted to grab a sundowner and watch the Brazil-Chile World Cup encounter. The single lift in the building was burdened by a long number of people trying to get to the bar. This particular hotel has a reputation for mean security guards who always look keen to practise their martial arts skills. It was indeed a surprise when the two of them smiled at us and even started speaking in English! They told us politely to complain to the foreign-owned management of the hotel about the second lift not working.
The next morning I reflected on the acts of kindness and politeness in the city that doesn't exactly have the best reputation in Russia. As I walked down an almost abandoned Tverskaya Street, I noticed people taking random photos of pedestrians. Two girls were taking a photo of an employee of a café, out on a smoke break. "Don't be shy, smile," they said. When I walked further down the road, a charming couple approached and asked me in English if they could take my photo. They struggled to express themselves in the language but wouldn't let me answer in Russian. From their broken English, I figured it was part of some smile campaign that they were on. After posing for their photo with a broad smile, I thanked them for their effort to spread positivity and bring out more smiles on the faces of Muscovites.
Ever since I left my beloved little Russian region, I have been witness to too many acts of random kindness and pleasantness on the streets of Moscow to accept any stereotypes of the city. I might just be in the process of becoming a Muscovite myself (!!), an almost unthinkable proposition for someone whose home in Russia will always be the far eastern island of Sakhalin.
All rights reserved by Rossiyskaya Gazeta.