The Moscow Veloparade: 10 miles of cycling euphoria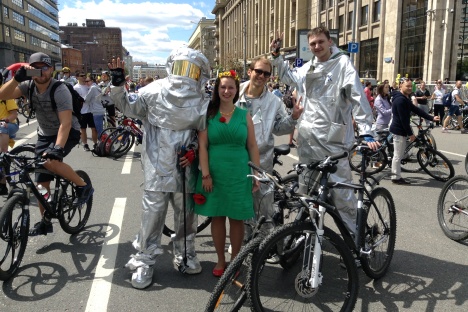 They swapped their spacecraft for a bike. Source: Elena Bobrova
On Sunday June 29 the third Moscow Veloparade took place in the Russian capital. RBTH editor and bike lover Elena Bobrova shares her impressions of the event.
On a sunny morning last Sunday I took part in the third Moscow Veloparade. The inner side of Moscow's Garden Ring orbital road was reserved for cyclists for the event, which organizers say attracted more than 10,000 participants.
The night before I went to bed at 2a.m., because I was busy decorating my bike with artificial flowers. The next day I realized that all my efforts weren't in vain (I should mention that I had to wake up at 7.30).
The first thing is that people do pay attention to you, which is very good in Moscow, because at the moment cyclists are divided into two groups – those who ride on the road with cars, and those who ride on sidewalks and paths… and unfortunately there's nowhere you feel absolutely comfortable, except a few bike lanes.
Secondly, I got lots of compliments, funnily enough not only from men, but also from women. One family even asked me to take a photo with them.
All along the way, policemen were standing on the side of the road, and I was also getting amazed looks and smiles from them.
Among the people taking part I saw several lovely ladies, who were also in dresses, with flowers and even one with a small dog.
Other participants also showed their creativity, so I met Bart Simpson, pirates, Mexicans, spacemen, clowns, tigers, a rabbit, Santa Claus, a couple in ushankas (although it was rather hot) and many other people in costumes.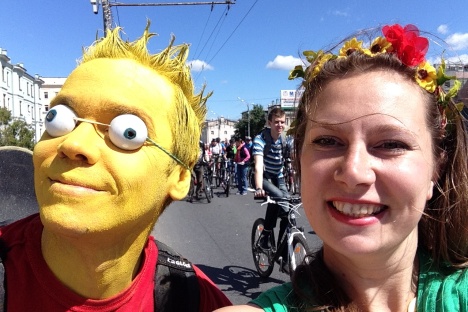 RBTH editor Elena Bobrova with "Bart Simpson". Source: Elena Bobrova
Many families with small kids also took part! There are now more then 5,000 photos on Instagram, just look at the hashtag #велопарад there or on Facebook.
I was somewhere in the middle of the column, so I started about 10:30a.m., at some tunnel we even got stuck in a bike traffic jam. Surprisingly, car drivers buzzed for us and didn't seem to be irritated.
All along the way, photographers were taking hundreds of photos and ordinary passers-by were documenting our column on their gadgets. Later, a friend of mine showed me the photo she took from her balcony, as she lives at Novinsky Boulevard.
The Garden Ring is 10 miles long and it took me a bit more than an hour to make it, with several stops for drinking water and taking photos.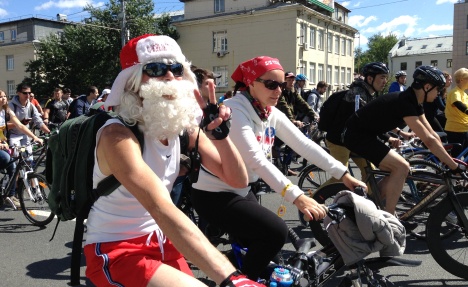 Even Santa Claus rides a bike in summer. Source: Elena Bobrova
Of course some crashes took place, but in general everyone was attentive, polite - and more importantly, the cyclists were smiling, talking to each other, taking photos and numerous selfies.
I remember that when I was in New York last summer Park Avenue was reserved for cyclists one day; later I discovered that it's an annual event in August called Summer Streets.
I wish events like this would be held more often in Moscow as well. Especially when the development of cycling infrastructure is getting attention not only from activists like the Let's Bike It! project, but also from the city government and banks. Recently Sberbank and Bank of Moscow announced plans to invest in a bicycle rental network in Moscow.
I read many comments on social media after the event and some of the most popular simply expressed thanks to the organizers and participants and pointed out that Moscow needs more events like this.
There's always somebody who is complaining about something, for me that's just part of the Russian mentality. But I think even five years ago nobody could imagine that Veloparade would be so huge.
So we need just to keep calm and ride our bikes! Not forgetting to be super attentive on the busy Moscow streets, of course.
The International Bicycle Film Festival will take place in Russia for the second time this July. The festival, founded in New York in 2001 by Brendt Barbur after he was hit by a bus while riding his bike, will be held in New York in June 26-29, then in Moscow from 23-27 July.
The organizers promise to present films from all over the world, arrange parties and celebrate bikes through art, film, music and performance.
All rights reserved by Rossiyskaya Gazeta.