We owe Maria Sharapova an apology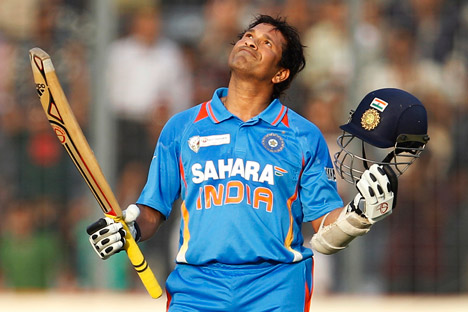 We need to accept that Sachin Tendulkar is not that famous in non-cricket playing nations. Source: AP
The immature rants from some Indian cricket fans do not in any way represent the public sentiment in India.
I was shocked when I saw #whoismariasharapova trending on Twitter and in stunned disbelief and embarrassment when I realised that this was the handiwork of some Indian cricket fans who were offended that the Russian tennis great did not know who Sachin Tendulkar was.
Why would someone who was born and partly raised in Siberia and now lives in America be well versed about a game that is only popular in the English Commonwealth? How can we expect her to know about our cricketing icon when few of our best athletes would be able to name a single Russian skiing or ice hockey legend? Sachin Tendulkar is one of the all time greats of cricket, but then it would really be unfair of any of us to expect people from outside countries with cricket playing countries to know or care. This is not a question of malice or arrogance.
It is ironic that many vulgar and hate-filled posts came from people who are fans of an athlete like Tendulkar, who has always conducted himself with class and dignity. The "Master Blaster" is one of the best ambassadors of India, and is most probably not happy that his name has been dragged into this shrill and childish controversy.
There have also been the moronic accusations of racism here. Why is that so many of us, Indians, see everything through the prism of race? We're quick to throw the race card at just about anybody for anything. If we want to be treated with respect abroad, we need to exorcise our demons of the bygone colonial past. That doesn't mean we forget the past, but there has to be a clear understanding that India is a strong and powerful country, and for the most part, the attitudes of the past no longer exist in the West the way we think they do. I knew of people who claimed to fail their driver's license tests in America, claiming they were deliberately flunked because of being Indian! There are genuine instances of racism, but by throwing up the race card every single time something unpleasant happens, no one will take a genuine complaint of racism seriously.
Would Australians have cared the least bit if Sharapova said she didn't know who Shane Warne was? Would they have gone on such a hate-filled and spam and troll spree? Would our neighbours across the Palk Strait have even batted an eyelid if the Russian tennis sensation said she had never heard of Muttiah Muralitharan? Let's shed our insecurities and complexes once and for all.
With the internet spreading to the far and wide corners of India, a new army of trolls has come up. These self-appointed guardians are large in number but definitely do not represent the opinion of the majority. They thrive on attention and were probably happy when the Indian and international media reported on their juvenile attack on Sharapova and used some of their tweets. These are the same kinds of people who hounded Indian tennis star Sania Mirza and harassed her with court proceedings in different parts of the country. They are anything but patriots or nationalists. Ask any of them offhand to name 3 Indian medal winners in the 2012 London Olympics and chances are that they would struggle. Ask them to name the captain of the Indian hockey team and they'd jump on to Google. All these trolls managed to do with their attack on Sharapova was to bring Indians into the news for the wrong reasons.
Maria Sharapova is an icon in India and is probably the most well known Russian in the country after Vladimir Putin. She is also known for her class on and off the court. When she did visit India in 2012, she won a lot of hearts just by talking about how much enjoyed eating a dosa. This is what she had to say about India and her fans: "It feels amazing to be here. It has taken me so long to get to India. I have tremendous amount of fans in this country and it feels great to get such a warm welcome." When asked about Delhi, she said, "There is so much energy in the city, I have been in some quiet areas recently, resting. I really like the culture and people."
Judging by those comments, this is clearly someone who has the greatest amount of respect for India, its capital and its people. As Indians, we need to collectively condemn those trolls, since they don't represent us. We are not a nation of Fascists and we definitely more than reciprocate the affection and respect that the Russian star has for us. Collectively, we owe Maria Sharapova an apology, for the way some of our countrymen behaved.
All rights reserved by Rossiyskaya Gazeta.