Public Editor: Malaysian Airlines tragedy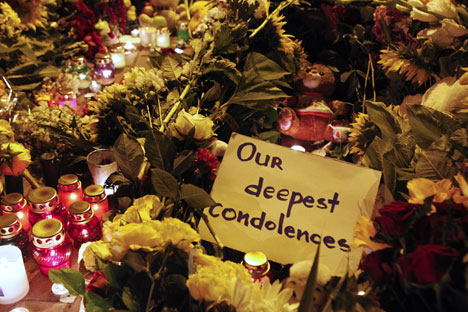 A message of condolence is left among candles and flowers near the Dutch embassy for victims of Malaysia Airlines MH17, which crashed in Eastern Ukraine, in Kiev July 17, 2014. Source: Reuters
In the wake of the shooting of MH17, readers called RBTH to task for its response on social media.
RBTH staff, along with the rest of the world, were shocked with the news that a Malaysian Airlines passenger jet had been shot down over eastern Ukraine on Thursday afternoon. Like many other news organizations, we struggled to find a way to respond to the event that would both inform our readers of the latest developments and give our audience insight they wouldn't read anywhere else. We also struggled with how to balance coverage of the tragedy with the stories we had already planned for the site on July 17, especially considering that we are not a breaking news organization.
Unfortunately, according to our readers on social media, we failed on all these fronts.
Even as we sought to give readers the latest information on Tuesday's deadly Moscow metro crash, readers on social media were calling for us to cover the Malaysian Airlines disaster.
Other stories we put up Thursday were received even more poorly. We posted a story about Russia's biggest diamond manufacturer before we knew about the jet, but as soon as readers saw the news, they began asking for information:
One of the stories we had planned for Facebook on July 17 was about the launch of Aeroflot's new budget airline, Dobrolet. We scheduled the post about Dobrolet before the Malaysian Airlines crash and only after it appeared online did we realize the complete insensitivity and inappropriateness of this post at this time. We took the post down, but not before it generated a number of angry comments from readers.
We had a heated debate among ourselves about what our role should be in a case like this. We are aware that readers do not often turn to RBTH for breaking news, and indeed they shouldn't, as this is not our mission. Nevertheless, when major news happens involving Russia, we must respond.
One way we attempted to bring our readers a perspective that they wouldn't find anywhere else was to post a blog by the guest editor for our sister site, Russia and India Report. The editor is a native of south Asia and a frequent traveler to Malaysia, and he felt particularly affected by the tragedy. However, again this post struck many readers as tone deaf. The post was written for a South Asian audience and we should have been more sensitive to the needs of the RBTH audience we deciding to republish this post. We recognize that a majority of those traveling were Dutch and that people of many other nationalities died.
What we meant to say with this post, and indeed, the only thing that needs to be said, is that we offer our deepest sympathies to the families and loved ones of the victims and call for a complete investigation into the events that led up to the tragedy.
All rights reserved by Rossiyskaya Gazeta.