Russia's Asian trump card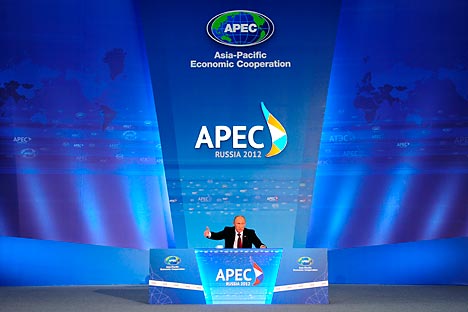 Vladimir Putin at the 2012 APEC summit in Vladivostok. Source: Photoshot / Vostock Photo
It's not just countries like India and China that are standing by Russia at the moment. Southeast Asian countries are also keen to maintain good relations with Moscow.
When martial law was declared in Thailand by a frustrated army that had to deal with never-ending political unrest in the country, the torch-bearers of democracy from the West immediately condemned the developments. The UK cancelled military visits and the United States, which has a selective policy when it comes to coups, cut off military aid to Thailand. (Going by Anglo-American logic, a coup is good for Ukraine and bad for Thailand!) At the same time, India and China said they understood the reasons for the imposition of martial law, without extending any kind of verbal support. Russia called for a return to political processes, but refused to go any further than that.
The reactions of Russia, India and China are being viewed with gratitude and appreciation by the ruling dispensation in Bangkok. If anything, the lack of condemnation is being looked upon the same way Russia looked at India and China's abstention during a motion on Crimea passed in the United Nations General Assembly earlier this year. There's a growing awareness in Thailand and much of the ASEAN region that America should not be allowed to dictate foreign policy around the world. This has made many countries in Asia warm up to Russia, a powerful country that never interferes in the internal affairs in the continent.
America and its allies have a policy of warming up to dictatorships like Saudi Arabia and have no problems whatsoever in doing business with countries like Singapore that don't pretend to be genuine democracies. This hypocrisy is being increasingly noted in Asia, where Russia is being seen as a genuine trade and political partner. Besides Japan, no Asian country has been keen to impose sanctions on Russia in the wake of the Ukrainian crisis.
Despite baseless allegations that Russia was in some way responsible for the shooting down of MH 17 via its alleged arming of Ukrainian rebels, not even Malaysia took the American bait. Given the fact that the media is tightly controlled in the country, it is highly unlikely that the news reports of the Malaysian airliner possibly being shot down by the Ukrainian armed forces would have seen the light of day without approval from the authorities. Of course, the reports on the New Straits Times and other publications have been largely ignored by the western media that is being used a propaganda tool.
Russian presence in Asia
The smaller countries of Southeast Asia, many of which have territorial disputes with China, are more than happy to see Russia actively courting new allies in the region. As good as Russia's relations are with China, it would not take an active stance against long-term ally Vietnam. In a way, a Russian presence in Southeast Asia is seen as a welcome counterweight to Chinese domination.
Russian companies are also involved in oil and gas exploration in Myanmar, a country that has enjoyed traditionally good ties with Russia.
Thailand, which is warming up to Russia after being on the other side during the Cold War, is increasingly becoming a home away from home for Russians wary of the long winters. Around 110,000 Russians live in the tourist resort of Pattaya and many Thais believe that this expat community has kept the economic engine running in the area.
Russians, like Indians and Chinese, have far less complaints about Thai police crackdowns on their activities post the May 2014 coup. Some even suggest that Thailand's clamp down on illegal Westerners living in the country (after turning a blind eye for decades) is a result of the hard line adopted by western countries.
In this environment of sanctions, Asian countries can also help fill Russia's immediate food needs. Fruits, vegetables and seafood can easily be supplied to the Russian Far East and sent onwards to Siberia. The Asian outreaches of Russia are not very far from the borders of ASEAN countries. The choice of Vladivostok as the venue of the 2012 APEC Summit was more than symbolic. It indicated that Russia wanted to be a greater part of the Asian community in addition to having a large European presence.
It's still unclear how the messy situation created in Ukraine is going to pan out and how far this war of sanctions will go on. If Moscow plays its cards right and increasingly engages countries in the Asia-Pacific, the economic effects of such sanctions will be diluted. There were so many threats from the West about switching to new suppliers of natural gas. Besides the fact that the threats were empty, they were completely neutralised when Russia and China signed a $400 billion gas supply agreement. It's in Russia's interests to have an amicable relationship with the West, but it is abundantly clear that Europe needs Russia a lot more the other way around. Russia has its Asian trump card and there's precious little that America and its vassal states can do about it.
All rights reserved by Rossiyskaya Gazeta.