Western Europe is fed on a diet of propaganda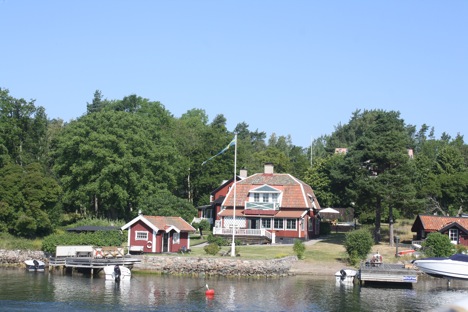 Sweden is the last country that needs to worry about Russia. Source: Ajay Kamalakaran
In many Western European countries, governments friendly to the U.S. have been using the media to spread ridiculous fears about Russia.
As a relatively large cruise liner sailed dangerously close to a small island on the Stockholm archipelago, my local host in a Swedish summer house thought it was funny to say that it was a Russian naval ship. Two years ago, there wouldn't have been a hint of nervousness in that statement but less than six months after Crimea became a part of Russia, there is a false sense of paranoia across much of Western Europe.
Since I was on holiday and treated to some incredibly generous hospitality by my hosts, I wanted to stay clear of political debate, but the Ukrainian crisis remained the elephant in the room. One host was adamant that the Russian government was directly responsible for what is essentially a civil war in Ukraine. When I asked him if he had any special intelligence sources or contacts that could supply irrefutable proof, he could only cite what he read in a local newspaper.
Such is the reputation of the local press in the Nordic countries that a large number of citizens aren't even willing to question what they read. These are the same countries where people have ridiculed religious texts that were strictly adhered to for centuries, since they felt believing them blindly defied logic. So where is the logic when it comes to blindly accepting what's written in the newspapers? We all know that many reputed newspapers in the West supported the U.S. government's ridiculous fabrications about the existence of weapons of mass destruction in Iraq in 2003. Although some of the newspapers apologized about this, it should have been abundantly clear to readers in the West to accept such allegations with a pinch of salt.
In many Western European countries, governments friendly to the U.S. have been using the media to spread ridiculous fears about Russia. They have linked these fears in some way to a series of laws that were introduced in Russia over the past year and a half. Now, I may not necessarily agree with all the laws that were introduced in the country, but I won't even claim that I have read the fine print of these laws. Further, since I am not a Russian citizen and don't vote for Russian Duma deputies, I prefer to keep my nose out of the way the country manages itself. However, I believe I am more qualified to comment on the situation within the country since I have been associated with it for the last 11 years, living in it for very long periods of time.
What is bizarre in the malicious anti-Russian campaign is this "link" between domestic laws in Russia and the country's alleged imperialistic ambitions. Russia has absolutely no military ambitions neither on its neighbours nor countries in its greater neighbourhood. The Russian Army could have overrun all of south-eastern Ukraine in a matter of days if it wanted to, but that would have given the country virtually no strategic assets of any kind. In other words, countries like Poland, Finland and the Baltic trio have no need to worry about Russian troops landing on their soil.
Russia suffered a tremendous human toll along with the worst kind of destruction during the Second World War and thanks to films and history text books, everyone in the country understands how disastrous a war can actually be. A large problem in Western Europe is the fact that history books have not been fair to the Soviet Union and its sacrifices in the liberation of Europe from Nazi Germany. The popular belief is that the Americans came in and rescued the continent. Such simplistic beliefs are the main justification for a lot of these European countries being pro-American at any cost. Although America lost a lot of lives in the Second World War, there was no fighting in the continental United States. It was Europe that bore most of the brutalities of the war.
Now by meddling in the heart of Europe, the U.S. government is trying to create conflicts in distant lands from the comfort of the Pentagon. Europe needs to stand united and solve its own problems with dialogue. Russia and countries in Western Europe simply cannot wish each other away and need to somehow find common ground to resolve the Ukrainian crisis and address other flashpoints in the region.
There is only one country that would benefit from a hot or a cold war. A country that has started the maximum number of wars in the world since 1945, a country that is responsible for the mess in the Middle East and has set the development of South America back by more than 40 years. This is the same country that wants a divided Europe so that its corporations can make some petty gains.
All rights reserved by Rossiyskaya Gazeta.