Looking at classical writers in perspective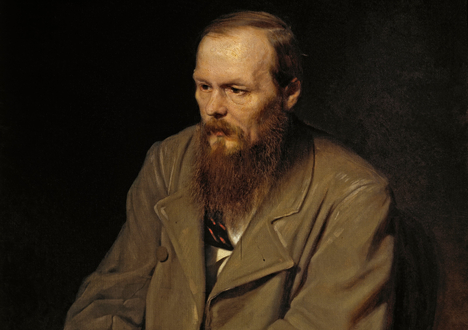 Fyodor Dotoyevsky's books contain traces of anti-Semitism. Source: wikipedia.org
Should 21st century yardsticks be used to judge the racist and misogynistic views of writers that lived in the 19th and early 20th centuries?
A conversation with a budding Israeli writer of Russian origin got me thinking about how we need to look at literature and writers from another era. The young writer in question was full of praise for one of the giants of Russian literature- Fyodor Dostoyevsky (my favourite writer of all time). When I asked the Israeli writer if the anti-Semitism in Dostoyevsky's books bothered her, she responded by saying that his works needed to be judged primarily on their literary merit, and then keeping in mind the society of his day and age. "He was human, after all," she said.
In The Idiot, there is a long rant against Catholicism and even some mocking of the Russian extreme. I have never heard of a Catholic person refusing to read Dostoyevsky's books on account of that attack.
It's gratifying to know that human beings have evolved over the last couple of centuries to at least be in a position to acknowledge that racism and misogyny are wrong and should not be tolerated. In another century though, certain beliefs and attitudes were considered acceptable and even encouraged.
While growing up in the United States, a country with an obviously strong English heritage, I read more than my fair share of Charles Dickens books, as a part of my academic curriculum. A Christmas Carol was a particular favourite and I enjoyed it the most during the holiday season.
After moving to India, I was told about Dickens' hatred for Indians. After the Kanpur Massacre, which took place during India's 1857 War of Independence, Dickens wrote, "The first thing I would do to strike that Oriental race with amazement...should be to proclaim to them, in their language, that I should do utmost to exterminate the Race upon whom the stain of the late cruelties rested." Dickens also called for the "extermination" of the Indian race and applauded the "mutilation" of the wretched Hindoo who were punished by being "blown from...English guns[s]." I cite Letters from Charles Dickens to Angela-Burdett-Coutts, Edgar Johnson, Ed.; Jonathan Cape, London, 1953 and The Speeches of Charles Dickens, K.J. Fielding, Ed., Clarendon Press, Oxford, 1960, page 284).
In 2012, the British High Commission supported a program at an art festival in Mumbai, where the legacy of Dickens was celebrated on his 200th birth anniversary. I was in the city at that time, but I just could not make myself attend that program. From what I read, the event was a success with many Bombayites participating in it with a great deal of enthusiasm. I wonder how many people who attended the event even knew what Dickens thought of Indians.
Maybe it is unfair to look at 1857 from a 2014 mindset, but it is not easy to accept the work of someone who wanted to exterminate the Indian race. There are people who try and justify their admiration for Adolf Hitler and read Main Kampf, and use the same argument that they condemn his war-mongering and genocide of Jews and Gypsies, but appreciate how he rebuilt Germany.
Compared to Dickens, Dostoevsky's rants against Jews seem rather tame.
I observed another example of a country embracing the legacy of a writer whose language would be considered unacceptable in this day and age. Danish writer Karen Blixen lived in Nairobi, where she wrote Out of Africa. She compares some Africans with animals, but that is something that the Kenyan authorities have been able to put aside, while lauding her beautiful descriptions of the East African Highlands and the Rift Valley.
Closer to home, many accuse Rudyard Kipling of being a racist, citing The White Man's Burden as the ultimate proof. I have heard arguments that the writer was being paternalistic and reflecting the views of the colonisers, while others have said the whole poem is ironic and actually mocks the concept of colonialism and how the English and others justified their 'noble quest to civilise conquered peoples.' Given the love with which Kipling wrote about India, it is easier to accept his flirting with racism, which I would put as less severe than Dostoyevsky's anti-Semitism, than it is to read the work of Dickens and feel nothing.
In 2014, any writer who goes on a racist rant, let alone hope for a genocide of a people, will be completely frowned upon. Publishers would drop such a person like a hot potato as would the members of the public of any decent society. However, while looking back at classics, it is tough to decide where one draws the line with writers who were misogynists and bigots.
Afterthought:
It takes an exceptional human being to stand up against injustice, when he or she comes from a position of privilege. For that, one has to appreciate George Orwell, who called out colonial racism for what it was in his classic, Burmese Days.
All rights reserved by Rossiyskaya Gazeta.