The glorious 'Indian Summer' in the Russian Far East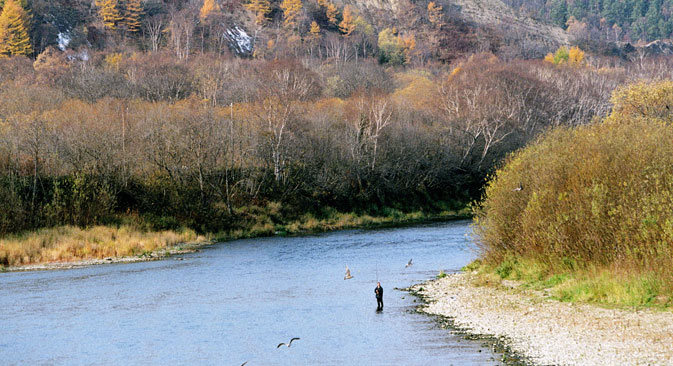 The Russian Far East stays warm and pleasant right through September. Source: Vladimir Fedorenko / RIA Novosti
As many parts of Central Russia begin to feel the autumn chill, those in the Far Eastern end of the country enjoyed pleasant weather sometimes well into October.
Spring and summer come late in the Russian Far East, especially when compared to Moscow and other parts of European Russia. As someone who spent many a brutal winter in some of the coldest parts of the country, one feeling I could never get over was watching people walk around wearing sweaters and light woolens in April and looking out the window and seeing grey skies and layers of snow. In fact, in May 2013, I remember flying out of Moscow when the temperatures touched 34 degrees and landing in Yuzhno-Sakhalinsk to 5 degrees Celsius. (I was grateful that there was no snow!) Those living in such distant parts of Russia have an extended 'Babie Leto,' or 'Indian Summer' to compensate for a prolonged winter.
The words babie leto literally mean woman's summer. The origins go back to the time when Russia was an agrarian economy and there was a brief time when the women had finished working on the fields and had some sort of small respite. In some ways, this is a melancholy period as the days are visibly shorter and there is an ever so present threat of cold autumn winds. However the days are gloriously warm across the region and perfect for hiking in many of its mountain ranges, some which border China's Heillongjiang province.
This is also the best season to go swimming in the waters off the famous Russky and Popov islands near Vladivostok or to Moneron Island, a 30-square kilometre island near Sakhalin, which was the first designated Marine National Park in all of Russia. The island is home to a large number of marine species that thrive in its waters warmed by the Tsushima Current.
There is just one basic guesthouse on the uninhabited island, something which is as good a deterrent to mass tourism as the ridiculous paperwork to get a visitor's permit. The rules to visit the island keep changing, but according to the latest available information, the Sakhalin Administration issues permits for Moneron.
If you're seeking more of an adventure, this extended summer is a great time to visit the Khabarovsk territory, one of Russia's largest provinces. The city of Khabarovsk, with its tastefully restored pre-Civil War architecture and riverfront has a distinctly Mediterranean feel in the warmer months. The territory has an abundance of untamed nature and is home to the world's largest tiger, the Amur (or Ussuriiski) Tiger. These cats tend to be shy but are easier to spot before the leaves start changing colour.
Tigers and the Amur snow leopards rarely kill humans, but the region's bears take a few lives every year. The Shantarsky archipelago, on the Sea of Okhotsk has the largest density of wild bears anywhere in the Russian Far East. News reports pour in every year of attacks, but the bears by this time are largely well fed on berries and spawning salmon and at their least irritable. Last New Year's Eve, a Russian Government decree established the Shantar Island National Park on a territory of 515,000 hectares. The isolated islands have large colonies of seabirds, seal rookeries and nests of ocean eagles. Its waters are also visited by bowhead whales.
Now that commercial tourism has reared its head even in the Kamchatka Peninsula, the Shantarsky Archipelago remains one of the last frontiers for adventurous eco-tourists.
Away from isolated forests
The Indian Summer offers other kinds of recreation for those who aren't looking for adventures in isolated national parks. There's the wonderful Russian pastime of mushroom picking, which is as good an excuse as any to go and get some fresh air in a late-summer forest.
There was a strict Soviet tradition, where universities sent students to help farmers harvest potatoes in fields. Many state-run universities did away with this tradition a few years ago, but some private universities still make their students turn into part-time farmers in September. While most university students I know hate this "forced labour," this year, I did see some 'selfies' with happy looking young people and the potatoes they harvested.
When the weather finally starts to cool down, the cultural season begins with concerts and plays and people slowly move indoors as the frost gets closer.
Golden Triangle
For years, the authorities in the Russian Far East have been talking about developing their own 'Golden Triangle' of tourism comprising of Vladivostok, Sakhalin and Khabarovsk. While all three places have sufficient tourist infrastructure, connectivity to the region remains poor and expensive.
The area has the potential to attract tourists from across the Asia-Pacific Region but there is little marketing of its natural beauty and historic sites. Opening these areas for tourism would bring an unprecedented economic boom and also help enhance Russian soft power in Asia, while integrating the region to the new hub of economic power.
All rights reserved by Rossiyskaya Gazeta.