Student life: A great gateway to Russian society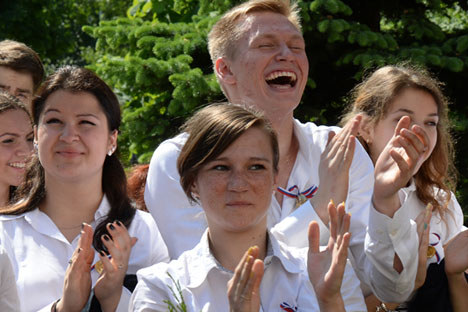 University students in smaller Russian towns are generally curious and welcoming. Source: Sergey Kuznecov / RIA Novosti
Young professionals looking to work in Russia should try taking a year off and living in the country as a student. This is one of the best ways to learn the language and begin a discovery of the 'Russian Soul'.
Over the last few years, there's been a renewed interest in Russia among young Indians. There's the go-getter crowd for whom places like Moscow offer a lot of action and excitement and there are others looking for a more unique experience and exploring an exotic and mysterious culture. The fact that despite the current economic slowdown in the country, Russia still needs a large number of foreign specialists make the country a good place for a young professional in the medium to long run.
When people ask me about opportunities in the country, I often recommend that young professionals take a year off and enrol for a Russian language course in a smaller town or city. Moscow and St Petersburg are great cities to live in with a lot of history and culture, but they have large student communities as well as a reasonable number of young people who can speak decent English. In most cases, such people are more than eager to practise their English with a foreigner than let him or her learn Russian.
There are ever-so common complaints that Indian students stick to each other and forms exclusive groups when studying in Russia. To an extent, this is understandable as it is not easy to adjust to completely new way of life, where everything from food, the weather and day to day life are different from home. However, by being in a place that does not have an Indian student community, one is more or less forced to assimilate to survive.
Many of the smaller towns and cities in Russia have state universities that have small departments catering to a smattering of foreign students. By enrolling in these universities, young professionals get a proper window into Russian society and see the country the way the majority does. There's also the "exotic" value that an Indian student is likely to have by living in a city or town without any Indians. This would be a great opportunity for a student to create a wonderful impression of India, by being an unofficial ambassador for the country.
Those who believe that the centre of economic gravity is shifting from West to East should look at places like Vladivostok, which is in Asia and a short flying distance to cities like Shanghai, Tokyo and Seoul. Other wanting to be closer to Europe can consider many smaller towns in Central Russia, with storied histories and fascinating architecture.
While living in Yuzhno-Sakhalinsk, I enrolled for a part-time course in the Russian language and this not only helped me dramatically improve my Russian, but connected me with a lot of young, curious and interesting people. If there's one thing about student life in small town Russia that I can vouch for, it's the fact that Russian students know how to have the most amount of fun from what they have. It wasn't just about sports, vodka parties or spontaneous picnics. Being with students really helped open many doors for me and gave me a chance to get an up close and personal look at the society I lived in.
Most of the expats on Sakhalin Island lived in specially built gated communities, which had just about everything from health clubs and restaurants to schools. The only thing missing in them were (oddly enough) grocery stores. These people had strange ideas of the locals and felt uncomfortable to be away from the familiar surroundings of their expat-oriented world. There were many who worked on oil projects for years and could not speak three words of Russian. This comfort zone existence ensured that many of these people wasted a great opportunity to learn a language that is sought after in many parts of the world.
For a young Indian professional, whatever the field he or she may be in, a year in Russia learning the language would help in assessing the country for its merits and minus points and really understanding if it was worth moving for the long run. A growing number of professions in the country need people with some amount of proficiency in the language.
At the moment, India has far too few Russian specialists; and by specialist, I don't just mean people who are fluent in the Russian language. A true specialist understands the culture, psyche, society and this complex phenomenon known as the Russian Soul. It's impossible to really be an expert on the country without living there for some period of time. A sabbatical as a student gives a person enough time and space to explore and understand Russia.
All rights reserved by Rossiyskaya Gazeta.