Did Dostoevsky and Tolstoy meet in real life?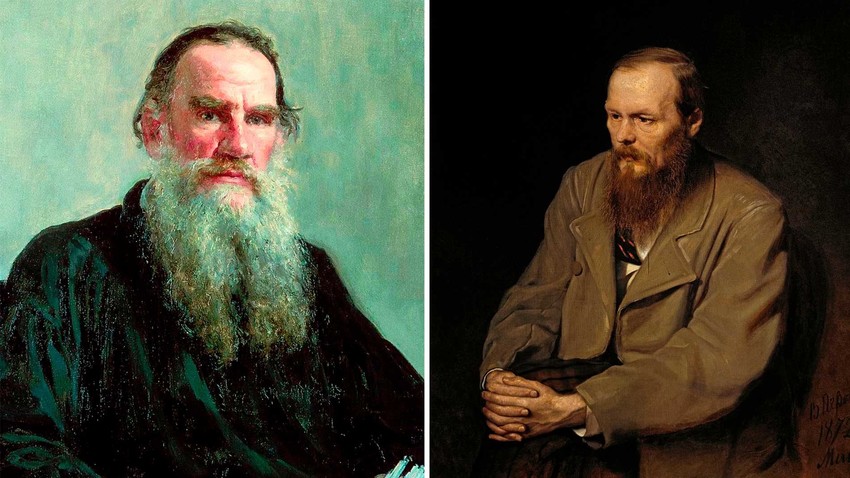 In this blog, we will answer your questions about Russian literature. Feel free to ask anything you want!
We know that Fyodor Dostoevsky and Leo Tolstoy were contemporaries. Did they know each other? How did they meet? - Bridget Pearson, Boston, Mass., USA
However strange, Dostoevsky and Tolstoy didn't know each other in person. Both of them socialized among writers and critics, both respected each other's work – but they were never introduced! When in 1855 Tolstoy, an aspiring young writer, came to Petersburg, he got to know a lot of writers, including Turgenev and Nekrasov – but at the time, Dostoevsky was still in exile.
When "War and Peace" came out, Dostoevsky was very impressed with it. He sought to meet Tolstoy. In 1878, both of them attended a lecture by philosopher Vladimir Solovyev, but didn't meet each other. Two years later, Dostoevsky came to Moscow to participate in the opening of a monument to Pushkin. Before the events, Dostoevsky was going to visit Tolstoy in Yasnaya Polyana, but from his Moscow friends he learned that Tolstoy started to detest social life and lived a recluse in his country estate. When on June 8th Dostoevsky held his famous speech about Pushkin, which astonished everyone who heard it with its depth and power, all significant writers of the time were in the audience – except Tolstoy.
However, when the same year Tolstoy read "The House of the Dead" by Dostoevsky, he was so impressed that in his letter to critic Nikolay Strakhov he called the book "best of all new literature, including Pushkin".
A year later, in 1881, Dostoevsky passed away. When Tolstoy learned about that, he grieved deeply. In a private letter, he wrote: "I've never seen this man and never had any relations with him, and all of a sudden, when he died, I understood that this was the closest, the dearest man for me, the man whose presence I needed the most… I considered him a friend, and had no doubt that we'll see each other someday…" The last book that Leo Tolstoy had read in his life, during his final days before fleeing Yasnaya Polyana and dying at Astapovo station, was "The Karamazov Brothers" by Dostoevsky.
However, Dostoevsky's wife, Anna Snitkina, was friends with Tolstoy and his wife. They have seen each other many times, and after Dostoevsky's death, it was Anna to whom Tolstoy confessed his regret of not having met the late great writer.
Read more: The look of Russian literature: From Pushkin's sideburns to Solzhenitsyn's chin curtain
All rights reserved by Rossiyskaya Gazeta.