Looking at Russia with nostalgia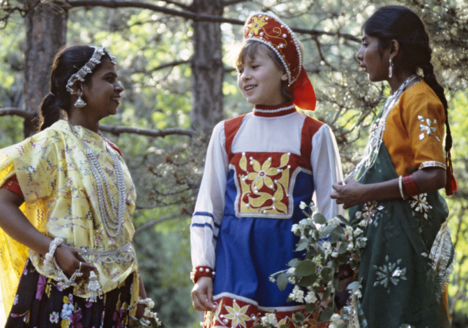 From the good old days. Source: RIA Novosti / Vladimir Fedorenko
Soviet comics, books and magazines issued from the 1960s to 80s generated a tremendous amount of goodwill for Russia in many parts of India.
For a long time, whenever I met an Indian with nostalgia for the Soviet Union, my first instinct was to assume that the person is either someone who dreamt (or is dreaming) of a socialist utopia, or a patriot who is grateful for Soviet assistance in events like the 1971 war. But many conversations over the last few years have me convinced that there was much more to these feelings than political views.
An art conservation expert, who received most of his professional training in the West, was the first person who dispelled my wrong stereotype. He grew up in the foothills of the Himalayas, where English-language newspapers reached days after publication, but Soviet comics somehow found their way to his school. "We all wanted them and only the well-behaved children got them," he said, adding that at a time when televisions were almost non-existent, these comics were probably the best form of entertainment.
Others who grew up in the 1970s and 80s also talk about Russian connections that had nothing to do with the politics. Russian fairy tales were popular among younger children in many schools. A retired academician said the goodwill for Russia was so strong among the teaching community in those days that many teachers insisted on reading some Russian classical fairy tales to their students. The 1980s generation enjoyed watching Nu Pogodi, the animation series of a rabbit and a wolf, on Doordarshan, the state-run broadcaster that had a monopoly till the early 1990s.
A treasury manager in a multinational bank in Mumbai showed me his large collection of Soviet Land magazines from the 1970s. Some argue that the magazine glorified the achievements of socialism and were even a form of propaganda, but this banker laughed it off. "I wasn't going to join the CPM after reading it." He added that he loved the glossy colour magazine, which was easily available at a time when all newspapers were printed in black and white and were used as packaging material before the advent of the plastic bag in India! "This was one of my connections to the outside world," he said.
Future icons
The fact that most people did not own televisions in India till the early 1980s may have been a blessing in disguise. This gave people more time to read, and the Soviet Union was happy to subsidise the sale of Russian books, translated into English and Indian languages, in India. In those days, both socialist and classic Russian literature was easily available thanks to state-owned publications like Raduga and the active interest of the Soviet Culture Centres to promote these books. Shah Rukh Khan's father bought Fyodor Dostoyevsky's The Idiot from the centre for 4 rupees as a gift for his son. The "Badshah" later acted in a tele-series directed by Mani Kaul, which was based on the book.
Then of course, there were the chess lessons offered at the cultural centre that played a part in producing one of the greatest chess players of all time- Viswanathan Anand. The chess legend even told Russian President Vladimir Putin about how his time as a member of the Tal Club in the Soviet Cultural Centre helped him. Putin jokingly replied that the Russians had brought this upon themselves.
There is still an enormous amount of goodwill for Russia among that generation, but constant bad publicity about Russia after the fall of the Soviet Union, did a great deal of damage. When I came to India for my first vacation after moving to Russia, I was taken back when I heard some of the questions people had. I was expecting questions about the mafia and the KGB, but the sheer number of people who asked me whether people waited in a bread line was shocking. Thankfully these perceptions are history.
For too long, the information that Russians and Indians got about the other country was filtered through Western news organisations and journalists. Back in the early part of the last decade, I was well aware about the ties between the countries in the past, but could not find a single website that even had information on Russia's one time passion for Indian cinema. That was when a friend suggested I do a search in Russian, instead of English. Needless to say that I received more than sufficient information!
Although it looks difficult at the moment, I still believe that there is potential for Russian soft power to reach the heights of the 1970s and 80s in India. For this, a greater degree of state sponsorship is required for big ticket cultural programmes. In the heyday of ties, the great director and actor Sergei Bondarchuk used to visit Delhi. How many well-known Russian stars now come to India? There also have to be more student and cultural exchanges.
An investment to promote Russian soft power will yield huge returns for Moscow in the long run, even in this day and age of globalization where the Western media and entertainment industry are on overdrive to win over India. There is a definite spiritual and cultural connection between the people of the two countries, and this is something that needs to be honed to reach the heights of yesteryear.
All rights reserved by Rossiyskaya Gazeta.