Working together in renewable energy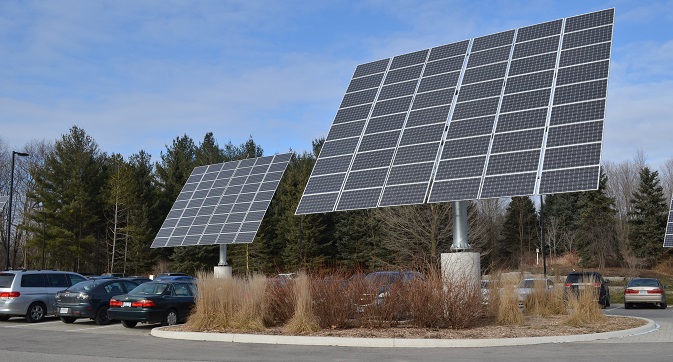 Indo-Russian cooperation in solar energy could actually jumpstart relations between both the private sector and researchers in the two countries. Source: Raysonho / wikipedia.org
A partnership between Russia and India in the development of renewable energy resources will help both countries in the long run.
It doesn't take a rocket scientist to figure out that the recent steep fall in oil prices is the handiwork of the Americans and the Saudis to bleed Russia. After all, the American-led sanction war may have slightly slowed down economic growth in Russia, but did not push the country into recession. It looks like the sanctions might just have hurt the West more than Russia. The low oil prices (and some serious international manipulations), on the other hand, have weakened the rouble to such an extent that many in Russia are now starting to worry.
India is expecting a temporary windfall from the lower oil prices, since it imports more than 70 percent of its energy requirements. What ties India and Russia together in the whole oil equation is the fact both countries are too dependent on the commodity. India needs to find a better way to fuel its economic growth and Russia needs to diversify its sources of revenue. It would be ideal for the countries to work together in renewable energy projects.
I was surprised to find out that Russia is actually the fifth largest producer of renewable energy in the world, one spot ahead of India. Of course, a large part of this comes from hydroelectric energy, an area where there is already a lot of cooperation between the two countries. Rushydro is designing the second phase of Upper Siang hydropower project in Arunachal Pradesh. The facility, which will be India's largest, will have an installed capacity of 3,750 MW. It's also Russian equipment and expertise that are involved in the Tehri and Balimela projects.
India is looking at more hydroelectric projects in neighbouring Nepal, another country that has traditionally friendly ties with Russia. This should open up many opportunities for enterprises like Rushydro.
Solar Power
Since 2008, there has been an effort and focus for Russia to work on other forms of renewable energy such as solar energy.
A few years ago Rusnano, a nanotechnology company set up by the Russian government, held talks with India to set up a joint venture in solar energy. The idea was to set up a joint venture company to manufacture silicon ingots which could be brought to India and sliced into thin wafers to make photo-voltaic cells. In 2011, the project cost being discussed was Rs 1000 crores (around $162 million at today's exchange rates). Such a venture never took off, but India has since, made big strides in the field of solar energy, with the setting up of the Gujarat Solar Park. If the joint venture idea could be revived, silicon ingots could be supplied for setting up solar parks in states like Rajasthan and Andhra Pradesh.
Russia is also planning to use solar energy in regions with a high which receive a lot of sunlight and where the cost of diesel generation is particularly high. India's experience with the solar park in Gujarat could come of use to Russia, when it sets up its solar plants in remote parts of the country, like the republic of Altai. Initiatives like the Altai plant have gotten a seal of approval from Vladimir Putin. "For hard-to-reach regions, remote regions, the use of alternative sources of energy, of renewable sources of energy, is an extremely important development," the Russian President said last month.
Although we are not likely to see Russia shun traditional forms of energy for alternative and renewable variants on a large scale, this is one area where the country can in a small way emulate the Germans. Germany, a country that is even greyer and less sunny than Russia, has increased its share of electricity produced from renewable energy to 30 percent from 6.3 percent in 2000.
Russia could also be a hub of new solar power technology. The country's long-term path out of dependence on commodity exports lies in innovation. The government has taken a lot of initiative to help bring about techno parks for start-ups and has linked them with universities. With concerns about climate change mounting across the world, the development of technology for renewable energy resources would not only bring in profits, but also help enhance the country's soft power. Combine this with India's definite need for alternate energy to meet its shortfalls in electricity as its economy continues to grow, and there is a strong case for an Indo-Russian renewable energy partnership.
Tailpiece:
Indo-Russian cooperation in solar energy could actually jumpstart relations between both the private sector and researchers in the two countries. Government support would only be needed in the initial stages. This is something that those working behind the scenes ahead of the December summit should keep in mind when discussing ways to boost trade and investment. This is an area where there simply cannot be any contentious legislation in either country.
All rights reserved by Rossiyskaya Gazeta.