Morality and public displays of affection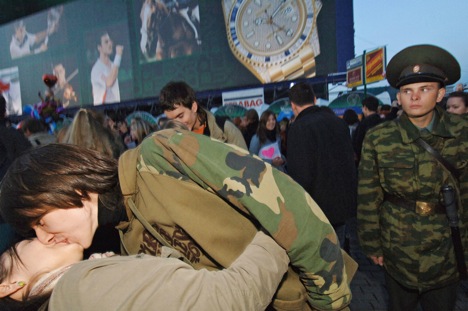 Public displays of affection are becoming rarer in Russia. Source: Vladimir Vyatkin / RIA Novosti
Moral policing is the bane of any civilised society and citizens need to take a greater stand against the self-proclaimed guardians of virtue.
Eleven years ago, when I first entered a Moscow metro station, I saw a couple engaged in lip lock right from the top to the bottom of a long escalator. I was happy for the lovebirds and thought about how people would react back home in India, where such behaviour is largely considered taboo. A few months after my metro ride, there were the first media reports of a kissing ban being pondered over by the Moscow authorities. I am not quite sure if such a ban was actually imposed. However, nowadays this once common sight is less visible. As a larger number of people turn to religion and conservative values, there is a greater public acceptance in Russia that such behaviour is not socially acceptable.
News of moral policing does the rounds in the Indian media every now and then. 'Conservative' Kerala is in the midst of a controversy over public displays of affection (PDA). After the 'kiss of love'episode in Kochi, where a kissing protest against moral policing was organised through social media, similar public events were organised in Mumbai, Hyderabad and Kolkata. Even the small Kerala city of Kozhikode will have its own version. I honestly loathe the concept of moral policing and refuse to accept that PDA is immoral or against Indian culture. If anything, PDA is against the Victorian values that were imposed on India by the British colonisers.
The Indian moral police don't just go after those indulging in PDA, as I was to find out last year. I was on an evening run in Mumbai's Juhu Beach on a very humid April evening. After a point, it was too hot for me to run with my singlet on, so I was forced to take it off. While I was heading past a crowded stretch of the beach, I was stopped by a man in his 50s. He demanded that I put my singlet back on. His problem wasn't with my less than perfect waistline, but with the fact that I was what he described as "semi-naked!"
The man, who claimed to work for the municipal authorities, accused me of being profane and said he'd call the police (!!) It was already dark by then and he had to pay special attention just to spot me. When I told him that he should focus his attention in those answering the call of nature and displaying parts of their birthday suit in a place that was full of children, he accused me of being "an immoral Westerner." I ignored him and restarted my run, but it made me wonder as to how far this concept of morality and traditional values should go.
Russian travel agents caution visitors to Goa against walking around the streets of villages in their bikinis. I can see a point in this, although I wonder where such advice comes from, given the fact that in the hottest summer day in Russia (and some places 40-degree weather), no one in their right mind would roam around the streets like that.
Recently there was even some loose talk in Goa about specific zones in beaches for wearing bikinis in the state. If the authorities are really concerned about morality, they should start with destroying the flourishing drug trade in the state. Get rid of the various drug mafias that operate with the blessings of the some unscrupulous police officers and politicians, to prove your moral credentials!
Moral policing is very much a problem in Russia as well, and I have seen it from close quarters. I once accompanied a friend who was facing emotional difficulties to an Orthodox church. She covered her head, as is the norm, and entered the church during a prayer service. Since her parents were basically atheists, she had no clue about what to do when she was inside the church. Suddenly some 'righteous believers' stopped concentrating on their prayers and started giving disapproving looks to my friend. The idea was that she is a Russian girl and should know how to pray properly.
This friend ran outside since she couldn't take the bad vibes anymore. She never ever set foot inside a church again, managing to find some sort of solace in Buddhism. Fortunately, she managed to sort out her vast and complicated emotional problems.
Common traditional values
A lot of older generation Russians I speak to say they like Hindi films of the 1960s and 70s since they don't have explicit sex scenes. The strong concept of family values in many ways, binds Russians and Indians, especially of another generation.
The debate over morality spans generations and will continue to exist as long as there is human life. We can agree to disagree on certain matters, but what is unacceptable is the imposition of values at gunpoint. And the paragons of virtue are usually people who are busy minding other people's business as a distraction from their own boring and insignificant lives.
Tailpiece: Outside a concert venue, a religious fanatic once threw some "cursed water" on a friend of mine for attending a Madonna concert. "You alone will be responsible if you insult the Virgin Mary by going for this concert," she told my friend. Years later, this friend owns a sports car and a luxury apartment in the heart of Moscow. I wish I had joined her for that concert, if only to get similarly cursed!
All rights reserved by Rossiyskaya Gazeta.