Nerd mentality: Explaining Russia's love for 'The Big Bang Theory'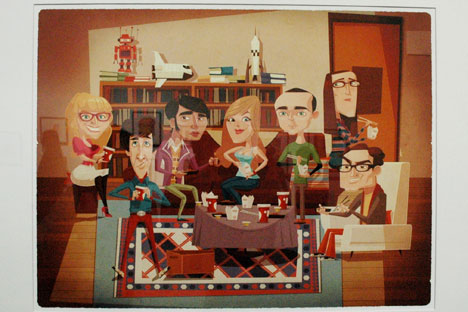 "Monday night is Thai food night" by James Gilleard, UK. Photo: Kira Egorova
Moscow recently hosted an art exhibit in celebration of the popular American TV series The Big Bang Theory, featuring a number of prize-winning entries by Russian fans. RBTH editor Alexandra Guzeva went to the event and asked why Russians are so enthusiastic about this comedy show.
I started to watch The Big Bang Theory five years ago, when I was in university. At that time, the series was gaining popularity in Russia and soon turned into the 'Big Bang Epidemic', infecting my entire class. We would go to our exams and instead of our textbooks, we would discuss the next episode, laugh at Sheldon Cooper, and melt over Raj, who back then still couldn't talk to women, didn't drink, and was trying to learn Klingon. "Why am I a journalist and not a physicist!?" I asked myself.
Geeks without borders
I think the characters in the series are very similar to Russians in their way of life. You can meet someone like Sheldon, Leonard, or Howard at any school, university, or any workplace (it's harder to find a Raj). At Moscow State University, where I studied, there were entire faculties of physicists, biologists, and mathematicians like that. To tell the truth, even in the Soviet Union several of my dad's friends looked exactly like that, judging by the photos. It was very prestigious to be a scientist or research fellow in Soviet times. The country nurtured great minds, even if they were a little silly in everyday life.
A lot of our scientists also know that they are nerds (that's what our cleverest are referred to as) and can laugh at themselves. My friends in the Faculty of Higher Mathematics and Cybernetics at Moscow State University created a KVN team (KVN is a humorous TV show where universities compete against each other in comedy contests by performing stand-up skits). They pretended to be Leonard and Howard, always unsuccessfully looking for their own Penny next door or at the next desk.
The series has produced countless quotes. At my university, "bazinga" became a really popular word that was transformed into the Russian "bugagashenka" in the witty dub-over by Kurazh-Bambei. Generally, the dubbing is one of the reasons to watch the series. Kurazh-Bambei is just one person who used different voices – always stupid and sarcastic – to turn this comedy show into a hit. An unbelievable number of expressions from it have become aphorisms and entered everyday speech. Kurazh-Bambei's dubbing has provided frenzied ratings for The Big Bang Theory and How I Met Your Mother in Russia.
I can safely say that The Big Bang Theory has gathered an army of 20-30-year-old fans in Russia. Russian TV channels have tried to make film knock-offs of the series, but they haven't had even a fraction of the success enjoyed by the charismatic scientists from California.
Russian fans pay artistic tribute to their idols
A recent art show called "The Big Bang Exhibit" in Moscow organized by Paramount Comedy Channel served as further confirmation of the Russian audience's love for sarcasm, Star Trek, and home food delivery. Guests were greeted by Kurazh-Bambei's voice in the foyer, announcing that all visitors would automatically receive a Nobel Prize upon their exit. Visitors could compare their height with that of Leonard and Sheldon and watch all of The Big Bang Theory episodes non-stop in a theater hall.
The main motive for hosting the exhibit was an international drawing competition based on The Big Bang Theory. Drawings by the finalists and winners were exhibited in two show rooms at the Moscow Solyanka Gallery. The United States, the UK, Italy… and these are just a few of the countries from which people contributed their fantasies on the topic.
But an entire show room was dedicated to the winners of the contest from Russia. An enormous portrait of Sheldon, executed by a clearly fascinated admirer, abstract pieces and the protagonists in the form of cartoon characters – that's how The Big Bang Theory is imagined in Russia.
The curator of the exhibit, artist Vita Dumchyute, shared her thoughts on the objectives of the contest: "Artists from the U.S., Italy, France, and Spain have proven that the series can be a brilliant inspiration and extension of the TV story as a separate art project. The project has been a success around the globe, and now it is Russia to host the first exhibition of visual art dedicated to The Big Bang Theory."
But why should I tell you about it when you can go and see for yourself?
All rights reserved by Rossiyskaya Gazeta.