Who's Jimmy Fallon's mysterious Russian doppelganger?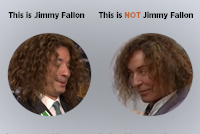 In recent edition of The Tonight Show, American talk-show host Jimmy Fallon made fun of Russian singer Valery Leontiev.
Fallon took advantage of his Screengrabs segment in which he displays screenshots he likes sent by viewers. One viewer sent him a picture in which Vladimir Putin is awarding Leontiev the Order of Friendship on July 31, 2014.
This video quickly found its way all over the Russian internet. Local internet users, including both Jimmy Fallon fans and Valery Leontiev fans, exchanged confused looks.
We'd like to note that Valery Leontiev is a pretty over-the-top guy, but if you put him in the perspective of the rough-and-tough Russian show biz world, he doesn't stand out from the crowd. This aging pop star, with more than a little freaky side, has several pretty good (and easy-to-memorize) songs, the last of which he recorded at the end of the 90s. For the last 15 years, people usually talk about him in the context of a) past successes, and b) an incredible amount of plastic surgery.
Who knows, maybe he can look forward to the same fate as Eduard Khil, better known as Mr. Trololo…
All rights reserved by Rossiyskaya Gazeta.