Eurasian Union: How about a common visa?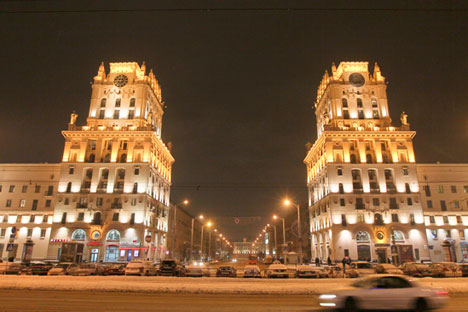 The Belarusian capital of Minsk has an exotic appeal outside the former Soviet Union. Source: Andrei Aleksandrov / RIA Novosti
An arrangement on the lines of a Schengen visa would substantially increase tourism to the member states of the union that will come into effect on January 1.
One of the best things about a European holiday is the opportunity to hop from one country to another in the Schengen zone without extra visas and permissions. Long gone are the days when people had 13 different entry stamps on their passports in 15 days when travelling across Europe. The very idea of the Eurasian Union, which will come into effect in one month, is to have an economic union of former Soviet states, on the lines of the EU. Unlike Europe, which has been open to tourism and visitors for a long time, countries like Belarus and Kazakhstan are full of undiscovered, interesting and exotic places.
From what has been revealed about the Eurasian Union, a common visa arrangement is not on the cards at the moment. Although there is free movement between citizens of Russia, Kazakhstan and Belarus to each other's countries, those who are not citizens of most former Soviet republics need 3 separate visas at the moment. This goes along with the stricter registration requirements in Russia's two neighbours.
Those who have been to Belarus say the country is neat, orderly and inexpensive, but has been spared the 'delights' of capitalism such as multinational food chains and ugly advertising. The landlocked country is in many ways looked upon as the real successor to the Soviet Union, complete with a colourful Socialist leader who is in no hurry to go anywhere.
Kazakhstan on the other hand is a large and diverse country with the Central Asian steppe to go along with modern cities and a region that borders Siberia. The country has seen its fair share of prosperity over the last decade and a half, largely thanks to its oil and gas reserves.
The union will also accept Armenia's membership soon. This picturesque country in the Caucasus, bordering Turkey, is full of monasteries, beautiful mountains and historical sites. Kyrgyzstan is also expected to join the grouping within the next year.
A common tourist or business visa would give a foreign citizen access to all 5 countries and encourage longer term visits. What could be more exotic than taking the Trans-Siberian railway from the Russian Far East and then crossing over into Kazakhstan, before hiking in the Tien Shan Mountains and then heading off to the Issyk Kul Lake? This trip could be capped off with a visit to European Russia and then some time in Belarus.
Many of these countries and their attractions would be on the global tourist map, bringing with it better infrastructure and revenue. This would also have a multiplier effect and kick start a budget airline boom and help major cities become hubs for adventure tourists.
Of course, we are talking about the former Soviet Union here, where many countries are obsessed with secrecy, security and control. But a common visa arrangement can be started on an experimental basis with countries that will have free trade agreements with the Eurasian Union. The first country that is likely to finalise a pact is Vietnam, followed by India. The young upwardly mobile and adventurous Indian traveller would relish the opportunity to visit these exotic countries. Many western countries have lost their lustre for the trend-setting Indian traveller since so many middle class tour groups go on package tours to Europe and the US. Easier travel norms will also help increase people-to-people contact between India and Central Asian countries.
The logistics of such an arrangement are not hard to work out since the former Soviet countries have the infrastructure in place and can network their computers the way the Schengen states do. It is just a question of political will more than anything else. Before the crisis in Ukraine erupted, Russia was talking on the lines of a common Eurasian space from Lisbon to Vladivostok. By removing travel restrictions within the union, Moscow would be keeping its end of the deal. It's only easier access to these countries that would help people shed stereotypes that are in large part formed due to biased media coverage of these countries.
It may be unrealistic to expect a common visa in 2015, but this is something that the union needs to consider in the coming years, as it works on other integrating factors such as a common currency.
Tailpiece:
This Eurasian Union will give the world a glimpse of how the Soviet Union may have looked if it was reformed in a better manner and not completely dismantled the way it was by Mikhail Gorbachev, Boris Yeltsin and a few others. The past cannot be changed but this union is a good opportunity for the members of the former USSR to work together in a non-political set up and revive the economies of many countries that fell into disrepair after Perestroika. Without Soviet-type travel restrictions, a whole new world will be opened to travellers.
All rights reserved by Rossiyskaya Gazeta.