Moscow through the Eye of Sauron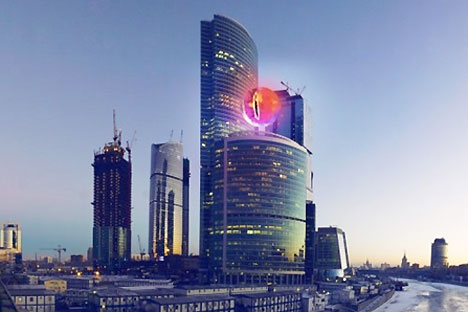 Concept art presented by art group Svechenie. Svechenie's artists say that the installation will "let millions of fans visit Middle-earth." Source: Open Source
Russian art group Svechenie ('Glow') presented a light installation called 'Eye of Sauron', which was to be erected on top of a skyscraper in the Moscow City business district. The installation has now been canceled after public opposition from the Russian Orthodox Church, which labeled it as "evil." RBTH looks beyond the blogosphere to find what people in Russia think about this initiative.
Last night Russia's blogosphere experienced somewhat of an explosion after news broke that the 'Eye of Sauron' from J. R. R. Tolkien's Lord of the Rings will for some time not just be fiction as it lights up the skyline of Moscow City to ominously watch down on the Russian capital as the latest "Hobbit" movie premiers in Russia on December 11.
Many Tolkien fans rejoiced and didn't really try hiding their excitement.
The "Eye of Sauron" from the novel Lord of the Rings will appear in the sky above Moscow – awesome
Some compared a gathering of soldiers on Moscow's Red Square to Mordor, the region occupied and controlled by Sauron, in the southeast of northwestern Middle-earth (not a very happy or benevolent place).
Others decided to not stop there and compared all of Russia to Mordor, perhaps with historical undertones because the Russian land was extremely unfriendly to Hitler's army:
Click to enlarge. Source: Yaplakal.com
The Russian Orthodox Church, predictably, wasn't exactly thrilled about some kind of an all-seeing bastion of doom, an emblem of evil, appearing in the sky above Holy Russia.
"This is a demonic symbol," the Russian Orthodox Church's head of public affairs, Vsevolod Chaplin, told Govorit Moskva radio station.
"Such a symbol of the triumph of evil is rising up over the city, becoming practically the highest object in the city. Is that good or bad? I'm afraid it's more likely bad. Just don't be surprised later if something goes wrong with the city."
But resourceful bloggers had a thing or two to say about that, too.
Andrei Kuraev, a Russian Orthodox Protodeacon, christening Orcs. Source: Diak-Kuraev.Livejournal.com

Other users got philosophical about the whole thing:
"One sci-fi book against another. Except in the first case it's religion…for some reason…". Source: Yaplakal.com

Twitter user Marina Marylintu didn't understand what the commotion about evil was all about because, after all, "true evil is in the carrot…"
Unfortunately for us at Viral in Russia, the very next day after the announcement these plans were abandoned. In its press release, Svechenie explained this decision by citing criticism from the Russian Orthodox Church and large sections of society. But, of course, resourceful Russian Internet users found a way to be witty about this too.
The Eye of Sauron was banned in Moscow. The Kremlin didn't want to lose its exclusivity:) #EyeOfSauron
All rights reserved by Rossiyskaya Gazeta.