In Deep Ice: Story of Russian politicians lost in Antarctica goes viral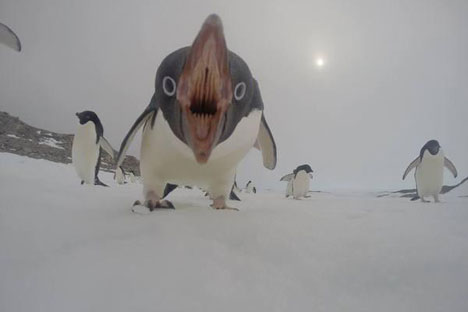 Source: https://twitter.com/molevitckiy
Two members of the Russian Duma took a trip to Antarctica. Little did they know that soon they would become the talk of the blogosphere on Wednesday this week.
"It was me who ate Sidiakin"
Ok, lets rewind a bit. Two members of the United Russia party and deputies in the State Duma, Alexander Sidiakin and Oleg Savchenko, set off on an expedition to Antarctica on January 2nd to conquer Mount Vinson (which, by the way, cost them $45,000 a pop but we mustn't digress) and firmly plant the Russian flag on its peak. On Wednesday, they failed to make any sort of contact for more than 24 hours, which prompted fears, speculations and, of course, numerous jokes regarding their fate and whereabouts.
The first mention was made on Twitter around 11am Moscow time by Sidiakin's press secretary: "Hello, my name is Pavel, Alexander Gennadievich's press secretary. He and deputy Savchenko have not made contact from Antartica. I fear the worst."
Some time later, Pavel went out and found a dose of optimism somewhere.
"P.S.: The lack of contact does not mean they've gone missing. Sidyakin and Savchenko are on the mountain and should get in touch in the coming days. A search mission is premature. We'll be patient".
Russian bloggers, however, don't need to go very far to find a very decent dose of humor. Not long after Pavel's first tweet we were in for some real treats.
"Help Dasha [Russian version of Dora] find Sidiakin"
"Attentiveness test – find deputy Sidiakin"
As with all mysterious disappearances, conspiracy theories quickly started to emerge. Many of them singled out those evil penguins as the main suspects.
"We've established the reason for Sidiakin's communication failure"
"Penguins from Boko Haram have kidnapped Sidiakin in Antarctica"
"Sidyakin's last photo"
Other inhabitants' involvement was also being investigated.
"The Investigative Committee of Russia has made the first arrests in connection to the disappearance of deputy Sidiakin"
"Deputy Sidiakin has disappeared in Antarctica. Evidently, they were kidnapped by American seals [we have a strong suspicion that the author of this post didn't consider just how perfect this sounds translated into English] and penguin sympathizers"
Whether or not it was in good taste, one user likened this "tragedy" to another very recent one:
This Internet user hinted at his political inclinations by suggesting that Zhirinovksiy, Zheleznyak, Mizulina and Ziuganov should all follow Sidiakin's suite:
For another user this was a kind of po-TAY-to, po-TAH-to situation:
"Two penguins will return from Antarctica instead of Sidiakin and Savchenko and no one will notice the difference".
But not everyone was ready to fall for what might be an intricate PR stunt.
"Knowing Sidiakin, I am more than sure that he himself thought up this story"
"Why's everyone so worked up about Sidiakin' 'disappearance'? I'm sure it's just a PR stunt to draw attention to him"
Others chose to be pragmatic and not alarmist:
"Has anyone considered that maybe Sidiakin's phone ran out of battery or is out of coverage?"
Ok, we probably had you in suspense for long enough. Indeed, the story has a happy ending:
"P.S.: Good news. The tour agency managed to make contact with Sidiakin and Savchenko. They're managing according to weather conditions. The climb continues"
PHEW!
Based on materials from Lenta.ru.
All rights reserved by Rossiyskaya Gazeta.