Week in Review: The "nonsense" edition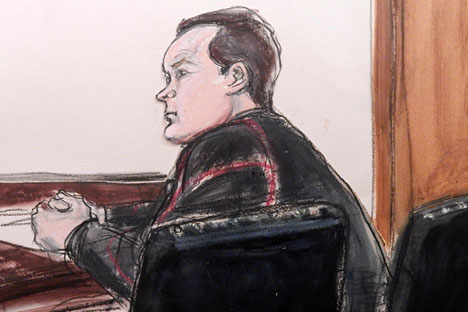 Yevgeny Buryakov appears in federal court in Manhattan on Jan 26 after his arrest earlier in the day in connection with a Cold War-style Russian spy ring that spoke in code, passed messages concealed in bags and magazines, and tried to recruit people with ties to an unnamed New York City university, according to authorities. Source: AP
The most notable and commented on RBTH stories of the past five days.
This week marked the 70th anniversary of the liberation of Auschwitz.
But even the commemorations of this somber event could not distract Russian and Western politicians from sniping at each other. Russian President Vladimir Putin did not attend the Auschwitz memorial events in Poland – although its unclear if he was not invited or if he chose not to go – and officials had no shame about arguing over which unit of the Red Army – the First Ukrainian Front or the 322nd Rifle Division actually liberated Auschwitz. Both divisions participated in the Vistula-Oder Offensive, which pushed German troops out of the area of the camp.
Polish Foreign Minister Grzegorz Schetyna said during a radio interview last week "the First Ukrainian Front and the Ukrainians liberated [Auschwitz], as on that January day there were Ukrainian soldiers, so they opened the gates of the camp." The Russian Foreign Ministry responded: "It is really difficult to imagine that a government official of a level as high as Schetyna's could be so ignorant."
On Holocaust Remembrance Day, Jan. 27, the Russian Defense Ministry released 15 archival documents about the liberation of Auschwitz. According to the documents, members of 39 different national and ethnic groups participated in the liberation.
But why fight about the past, when we have the present?
During a visit to a university in St. Petersburg on Monday, Russian President Vladimir Putin accused NATO troops of being a "foreign legion" fighting in Ukraine. NATO Secretary-General Jens Stottenberg struck back, calling Putin's claims "nonsense." Some RBTH readers felt the same:
But some did not:
Then, on Wednesday, State Duma Deputy Nikolai Ivanov of the Communist Party, suggested that the Duma International Affairs Committee denounce the 1989 reunification of Germany as the "annexation" of the east by the west. Mikhail Gorbachev then weighed in, calling Ivanov's comments "nonsense." "You can't make judgments about what happened in another era, 25 years ago, from current-day conditions," the elder statesman added.
Sadly many lawmakers do not share Gorbachev's view. Duma Speaker Sergei Naryshkin of the ruling United Russia party suggested the committee "consider it and report to me."
And in other nonsense, the U.S. accused three Russians – Evgeny Buryakov, Ivan Sporyshev and Victor Podobnyy – of being operatives in New York for SVR, the Russian foreign intelligence service. According to surveillance by the FBI press release, the three men took the opportunity to hit on co-eds "In numerous recorded communications, SPORYSHEV and PODOBNYY discussed their attempts to recruit United States residents, including several individuals employed by major companies, and several young women with ties to a major university located in New York."
And they may or may not have helped reporters from Russian news service TASS get comments about the New York Stock Exchange.
They also complained that life as secret agents wasn't as exciting as they had expected. After all, they didn't even have secret identities. "I thought at least I would go abroad with a different passport," Sporyshev allegedly told Podobnyy. Podobnyy, for his part, said he hadn't expected to be "James Bond" or "fly helicopters," but would have liked to "pretend to be someone else, at a minimum."
Would they have preferred undercover identities as mascots for Russian sports teams? They probably would have been equally as effective.
All rights reserved by Rossiyskaya Gazeta.