Week in Review: Vodka, armored taxis and a map of bookstores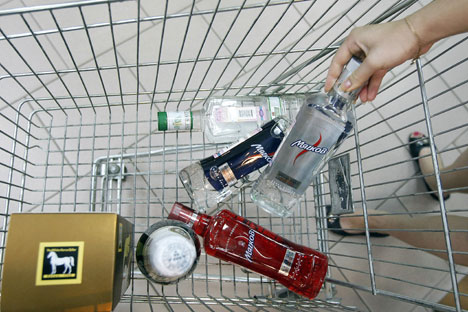 This week authorities dropped the minimum price of vodka for the first time since 2009. Source: ITAR-TASS
The most notable and commented on RBTH stories of the past five days.
This week seemed dominated by off-beat news as politicians and experts waited for negotiations to establish a new ceasefire in Ukraine to bear fruit.
On Sunday, the state authority that monitors the price of liquor dropped the minimum price of vodka for the first time since 2009. However, as many readers were happy to point out, the most popular beverage in Russia these days is actually beer.
Others felt they could package this information more efficiently
A story a few days later about Russia's first armored taxi also attracted a lot of attention. Want to rent it for a special night out? Rides run $90 per hour.
And then, the Moscow government announced a new initiative to connect the city's 3,000 pay phones to Skype.
And the Internet said…."What's a pay phone?"
Actually, the service could prove useful for travelers whose mobile devices don't work abroad.
Also, if you find one, you can use it to pay your cell phone bill!
If, however, you do manage to visit Moscow and have a working mobile device, you can use it to visit every bookstore in this city, known for its love of literature. Moscow's literary map will also give information about literature-related events and show the location of museums connected to Russian writers and libraries.
If you love Russian literature, make sure and bookmark our special literature section to get updates on Russia's hottest new writers as well as new translations and stories about the classics.
All rights reserved by Rossiyskaya Gazeta.