Armenian circus performer Tatevik Seyranyan on life as a contortionist.
Tatevik Seyranyan, 27, has been working with her circus family since she was two years old. Originally from Armenia, she performs in a variety of contortion and balance acts, often with her parents and sister. Altogether, the Seyranyan Family Show boasts more than 10 acts. For the 2014-2015 season she is performing with the Big Apple Circus. Seranyan spoke to circus expert, journalist and RBTH blogger Kim Palchikoff about life as a contortionist and what it is like to perform with family members.
RBTH: What are some of the best moments of your 25 years of life in the circus?
Tatevik Seyranyan: Having been born into the circus, it's a bit difficult to separate my daily life from my professional work, because every day my work becomes my life. Most of my life I've spent traveling and meeting new people, so that's always an exciting experience.ana
Some other great moments have been the times when I implemented new things into my act. I always get butterflies in my stomach when an idea for a new trick comes to mind, However the greatest feeling I get is when, after hours and hours of practice every day, over the course of several months from the time I come up with the trick, to when I am finally able to do it, add it to my performance and hear the audience's response.
The Seyranyan Sisters - Contortion in a Cube. Source: YouTube

RBTH: Where are you from?
T.S.: I'm from the Circus! Ha ha. I was born in Armenia but never lived there (my parents were touring there at the time and I was just lucky to be born in my native country). The United States is actually the one country where I've lived the longest. I was almost 16 when we moved here.
RBTH: What is it like to work on the road?
T.S.: Every show or place I've worked feels different. It isn't that the scenario is much different from one place to another, but the group of people that surround me gives me a sense of a new life.
RBTH: Do you ever get tired of practicing?
T.S.: Honestly, practice for me is like brushing my teeth every morning. It's more than just a habit. I will lose my skills if I don't use them. But I actually love practicing and miss it if for some reason I am unable to practice for several days. Of course there are days when I'm tired and don't feel like practicing; that's when I occasionally give myself a break for a day, but never when I have a show to do, because I always have to warm up before a performance.
Tatevik Seyranyan - Juggling on Rola Bola. Source: Big Apple Circus
RBTH: What acts do you do?
T.S.:In the Big Apple Circus I'm this "adorkable" character that appears throughout the show. I also do contortion in a cube with a partner (where both of us get into a 22" x 24" box at the same time) and later juggle on the rola bola [a balance board – RBTH]. I also do a limbo act with my family and hula hoops.
RBTH: Which one is your favorite?
T.S.: The juggling on the rola bola because it's more difficult than all the other acts.
RBTH: What is the most difficult part of performing your acts?
T.S.: Maintenance, stability, and the ability to adapt to each new venue. I practice every day to maintain my skills but unfortunately even perfect practice doesn't always make for a perfect performance. Every venue has a different atmosphere to it – different lighting, different floor (soft/hard, smooth/curvy); sometimes it's too cold, sometimes it's too hot. The challenge is to adapt to it all and still perform flawlessly.
RBTH: Most people wonder whether contortion hurts…
More about circus!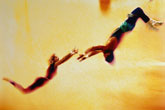 T.S.: Contortion takes a lot of patience until you're flexible enough to where it no longer hurts. It doesn't hurt when you're in good shape. I don't know how it is for other contortionists, but for me it's about balance. I have to do it every day to stay flexible (especially as I get older), but then I can't overdo it either, because then my muscles get too tight and that's when it hurts.
RBTH: You and your sister are best known for the contortion cube act. How long have you been doing the cube act?
T.S.: I've been doing contortion since before I can remember, but we actually started the cube act with my sister Arevik 12 years ago. Currently she is a mother of two and she can't always leave her family to go on tour with me.
RBTH: What is it like to work with your parents - and sister, when she performs?
T.S.: It's difficult to meet your family's expectations but that's what I love about them. I wouldn't be at the professional level I am at if it wasn't for the discipline of my parents who pushed me to achieve things no one else has done before.
All rights reserved by Rossiyskaya Gazeta.