Week in review: Food shortages (or not), lifting of adoption ban (or not) and the value of Soviet architecture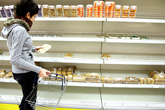 Source: Alexander Rumin / TASS
The most notable and commented-on RBTH stories of the past five days.
Although the effort to bring peace to eastern Ukraine dominated the news this week, RBTH readers found a number of important topics to debate on our site and online.
First, a report about the bankruptcy of one of Russia's leading wine importers led readers to suggest some alternative options - some of which seemed more realistic than others.
But while wines are indeed disappearing from the shelves (although for the record, wine is not subject to Russia's ban on food imports from many Western countries), the same cannot be said of many foodstuffs, which led readers to call out RBTH over the choice of the photo to accompany a story about an increase in food prices. Yes, prices are going up; yes, choices are limited, but there is still plenty of food available for purchase in Russia.
Readers also reacted very strongly to news that the infamous Dima Yakolev law, which bans the adoption of Russian children by Americans, might be amended. But many who read the headline of the piece took it to mean that Americans would again be able to adopt Russian orphans. This is not actually the case. The amendment applies only to Russian citizens who also hold American passports. People who fit this category would be able to adopt Russian orphans – but only if they reside permanently in Russia. The subtleties of the proposed law did nothing to dampen the debate over adoption of Russian orphans by foreigners, however.
I personally was heartened by the interesting debate among Facebook fans over the pros and cons of Stalinist architecture brought about by this multimedia feature.
We asked our Facebook fans: Soviet architecture is beautiful and impressive, but today we understand that these chefs-d'oeuvre were no more than a decoration for the happiness that would never come true." Do you agree with that statement?
Here are a few replies:
All rights reserved by Rossiyskaya Gazeta.