Great Lent: Beginning the journey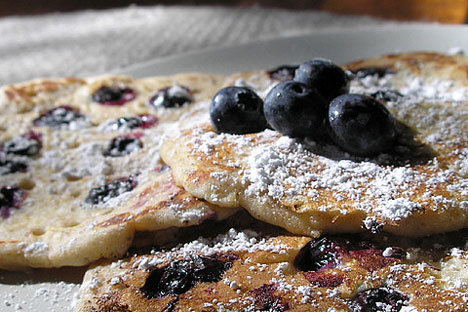 Blueberry oatmeal pancakes. Source: Isabelle Boucher / Flickr
Enjoy a good pancake during the Week of the Last Judgment.
By mid-February, enough light has returned to the Moscow days to make the thought of spring a possibility. But the level of snow on the ground and the still-frigid temperatures indicate that winter is not ready to give up yet. And the last gasp of that long season is accompanied by six weeks of deprivation known among the Orthodox as Great Lent.
While Western Protestants tend to be quite casual about the season, the Orthodox take it very seriously. There are four major fasts during the Orthodox church year, of which Great Lent is the longest. During these strict fasting periods, believers do not eat meat – specifically, anything with a backbone; dairy products, including eggs; olive oil; and wine.
Since I started observing Great Lent, about six years ago, I've often wondered if the ancient clergy devised Lent as a way of distracting people from the actual lack of food available in those last winter weeks, before anything could be planted and grown and what food had been preserved from the previous fall was nearly gone. While the dates of Great Lent shift with the liturgical calendar, it nearly always falls in this period bridging late winter and early spring.
Although I am not Orthodox, I have tried to understand the more spiritual aspects of the Lenten journey. After all, the practice of fasting is not at its core about deprivation for its own sake. It is deprivation in the pursuit of spirituality.
Over the years, I have learned a lot of things. In the Orthodox tradition, there are three weeks of pre-Lent, which started this year on Feb. 1. With Meatfare Sunday on Feb. 15, the situation begins to get serious. Meatfare is the last day Orthodox believers will eat meat (or anything with a backbone) until Easter Sunday, April 12 – which Russians call Pascha.
Thus begins the Week of the Last Judgment, better known in Russia as Maslenitsa, or Butter Week. This week, meat may be forbidden, but believers are welcome to eat all the butter and cheese they like. Many Moscow restaurants have special pancake menus. It makes the Western church tradition of Shrove Tuesday pancake suppers look positively sad.
The point of this minor gluttony is to prepare for the challenge to come. The celebration – something out of the ordinary – tells the believer to pay attention, to use the time to satisfy your body and prepare your mind.
As it happens, I am lactose intolerant, so I don't necessarily take the time to load up on butter and cheese, but I do enjoy a good pancake.
Here's my favorite recipe, courtesy of my uncle.
John Wilhoit's Oatmeal, Yogurt, Banana, Blueberry Pancakes
Ingredients:
2 eggs; 4 T.oil; 1 c. whole wheat flour (or ¾ c. spelt flour); 2 ½ c. plain yogurt; 4 t. baking powder; ½ t. baking soda; 1 t. salt; 1 c. quick cooking oats
OPTIONAL: 1-2 bananas, chopped; ½ t. nutmeg; 1 c. blueberries (may be fresh or frozen)
(Also may substitute 2 c buttermilk, 2 t. baking powder, and 1 t. baking soda for the yogurt and amounts of baking powder and baking soda above)
Beat eggs with hand beater until fluffy. Beat in remaining ingredients just until smooth, stir in bananas and nutmeg just at end. Blueberries will be dropped on pancakes while cooking. Grease heated griddle. Pour about ¼ c. batter onto griddle. Cook until pancakes bubble and puff at edges. Flip until golden brown.
All rights reserved by Rossiyskaya Gazeta.