Week in Review: Putin, giant holes and Russians rock on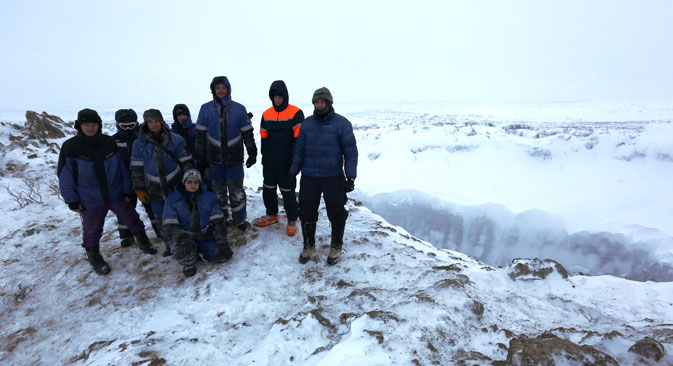 The latest expedition to Yamal crater in early November 2014. Source: Russian Center of Arctic Exploration
This week, a new poll confirmed Russian President Vladimir Putin's popularity, new holes were found in Siberia and readers debated the merits of various post-Soviet Russian pop stars.
RBTH readers managed to keep calm and mostly engage in a productive discussion about a new survey by the Levada Center polling agency showing that Putin's approval rating increased by one point in February to 86 percent, up from 85 percent in January.
Respondents were also showing the love to government officials and regional governors, who received approval ratings of 60 percent and 63 percent, respectively. Only half of those surveyed approved of the work of the State Duma, however.
Meanwhile, scientists announced the discovery of even more mysterious giant holes in the Yamal region of northern Siberia. While there is no firm conclusion on what caused the holes, Vasily Bogoyavlensky, of the Institute of Oil and Gas Issues at the Russian Academy of Sciences, told RBTH that the holes are similar to those seen in the Arctic seabed and could indicate that the land where the holes have been discovered was once an extension of that seabed.
Watch the video: Week in review
Scientists have also warned that the holes are likely a result of climate change and the thawing of permafrost in the Russian north, which could have serious implications for the global climate, as permafrost is known to contain large amounts of methane and other greenhouse gases.
Finally, a new edition of the RBTH podcast Bailalike It got readers talking with its ranking of the top five post-Soviet Russian rockers. While there didn't seem to be much disagreement over the inclusion of artists like Zemfira and Nochnoye Sniperi, Facebook fans were quick to call out groups like Akvarium, Mashina Vremenya and DDT.
While we also have a lot of love for those groups, they didn't fit the criteria of the ranking – which was that the artists had to have begun their careers after 1991. Love Russian music of the 1980s? We've got it right here.
And if you have an artist to suggest for our podcast, send us a note at us@rbth.com.
All rights reserved by Rossiyskaya Gazeta.