A Greek dish for a bishop of Greece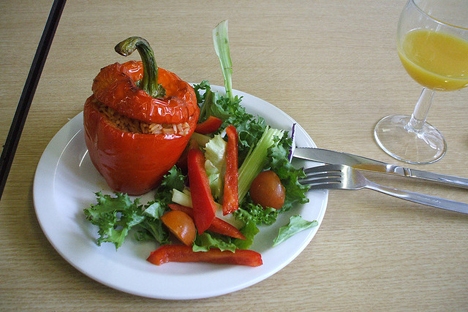 Vegetarian Gemista with peppers. Source: Tom Adams / Flickr
On the day of St. Gregory Palamas, take the time needed to bake stuffed peppers to say a prayer.
Two weeks into Great Lent, we come to the Sunday of St. Gregory Palamas. Gregory Palamas (1296- century archbishop of Thessolonica. He grew up in an aristocratic household in Constantinople and entered into monastic life in 1316.
Well-educated both by secular teachers in his youth and by a number of eminent theologians after he embraced religious life, Gregory was instrumental in defining the meaning of grace and prayer for Orthodox believers.
ICON OF THE DAY:

St. Gregory Palamas
Gregory advocated the idea that prayer should be reflective and experiential with the goal of achieving divine energy. Many people who practice this kind of prayer use the Jesus Prayer, "Lord Jesus Christ, Son of God, have mercy on me, the sinner."
The controversy over Gregory's beliefs regarding prayer is called the Hesychast Controversy, and the victory of Gregory's position in the conflict is sometimes called the "Second Triumph of Orthodoxy," which is why the second Sunday of Great Lent is named for him.
In honor of Gregory's bishopric in Greece, I'm offering a recipe from that country. I was in Greece this fall and while for many people, Greek cuisine involves a heavy helping of sliced meat in the form of gyros, it's easy to follow a vegetarian diet in Greece. It's harder to avoid dairy products (well, maybe just because I like that thick slab of feta on my Greek salad), but completely possible.
Actually my favorite thing to eat in Greece is gemista, vegetables stuffed with rice and baked. You can stuff and bake a wide range of vegetables, including tomatoes, eggplant, Portobello mushrooms and zucchini, but I prefer red peppers.
Vegetarian Gemista with peppers
Ingredients:
3 medium-sized bell peppers; 2 tomatoes, diced; 2 cloves of garlic, minced; 1 onion, diced; 1 tsp dried parsley; 1 tsp dried oregano; 2 tsp dried basil; 1 tsp salt; 2 cups white rice; 1 cup water
Preheat oven to 180 C (350 F). Carefully remove the tops of the peppers using a sharp knife. Remove the seeds from the peppers. Reserve the tops.
In a skillet, sauté onion and garlic until the onions are transluscent. You can do this in 1 tbsp olive oil, if it is a day when oil is allowed, or in ¼ cup water if it is an oil-free day. Add diced tomatoes. Saute 5 minutes. Add rice, water, spices and salt. Bring to a boil. Simmer just at boiling, stirring occasionally, for five minutes.
Stuff peppers with rice. Only fill the peppers half-way, because the rice will expand when baked. Put the tops of the peppers back on and put peppers into a greased baking dish. Sprinkle with salt. Drizzle with olive oil, if using. Bake 1 ½ hours.
All rights reserved by Rossiyskaya Gazeta.