It is possible to make a vegan birthday cake – and really that isn't as bad as it sounds.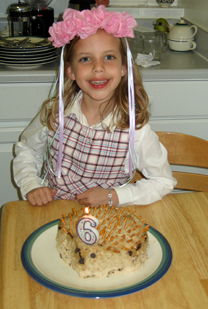 Katharine with cake. Source: Lara McCoy

Today is my older daughter's birthday. It always manages to fall during Great Lent and I am always presented with the challenge of making a celebratory dinner for her while following the fasting rules. This isn't a particularly huge problem as my daughter is a big fan of Asian food and requests either stir-fry or sushi for her birthday dinner. There is, however, the question of the cake.
When my daughter was very small, I took great pride in making her birthday cake. I even went through a phase of making them into whatever shape she requested. The first year I observed the fast, she wanted a cake that looked like a hedgehog. And it had to be vegan.
Believe it or not, it actually isn't that hard to make a vegan cake. Most vegan cake recipes tend to be chocolate. I'm not sure why, except that maybe chocolate is a fairly strong flavor and can hold its own against the other things you have to throw into the cake – usually some kind of vinegar to provide the reaction that usually comes with eggs.
The first year I observed the fast, we had moved to a new city and didn't know many people. We were, however, close to our neighbors and I invited them over for my daughter's birthday dinner. After a meal of salad and broccoli stir-fry with peanut sauce, it was time for the cake.
It was mostly presentable. It was kind of brown, like a hedgehog, it was the right shape and I had put pretzel sticks all over it to mimic the spikes. So maybe it looked more like a porcupine, but same general idea. The icing wasn't particularly moist, but overall I was pleased with the effect. Until I began to hand out servings of it.
I hadn't made a big deal of the fact that the cake was vegan, but I had talked with my neighbor about it. "Lara," she said, as I handed her a plate, "do you realize you just served ice cream with a vegan cake?"
Vegan birthday cake
(Note: this cake does involve vegetable oil)
Ingredients:
1 ¼ cup all-purpose flour; 1 cup sugar; ⅓ cup cocoa powder; 1 teaspoon baking soda; ½ teaspoon salt; 1 cup warm water; 1 teaspoon vanilla extract; ⅓ cup vegetable oil; 1 teaspoon distilled vinegar; Preheat oven to 350 degrees F or175 degrees C.
Combine sugar, flour, cocoa powder, baking soda and salt in a large bowl. Add water, vanilla, oil and vinegar and mix well.
Pour into pan (s) and bake for approximately 30 minutes. Cool completely on a wire rack.
Will make 1 9x13 pan or 2 8in round pans. Cake will not rise significantly.
Tofu Frosting
Ingredients:
1 cup firm tofu (1/2 lb.); 2 Tbsp. oil; 2 Tbsp. fresh lemon juice; 3 to 4 Tbsp. maple syrup; 1/4 tsp. salt; 1/2 tsp. vanilla extract
Mix well using a hand blender. Spread over cooled cake.
This blog covers the challenges of following the strict fasting rule of Great Lent, including fast-appropriate recipes and notes about the religious traditions behind the season.
All rights reserved by Rossiyskaya Gazeta.