Three salads for three holy days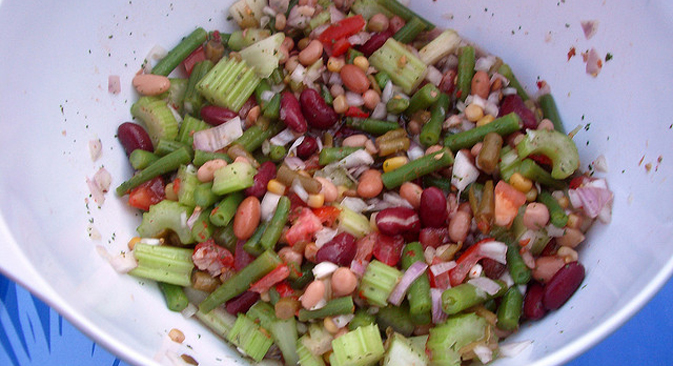 Vegan White Bean Salad. Source: Emma / Flickr
The final few days before Easter could be considered the hardest part of the Lenten fast.
Holy Week, the week preceding Easter Sunday, is the most difficult week of Great Lent. You could make the point that the first week of the fast is actually the hardest, arguing that giving up so many things at once is more difficult than making additional cutbacks 5 weeks in, but making further restrictions into the Orthodox Lenten diet is fairly tough.
Church services are held every evening of Holy Week, and some believers try to keep a strict fast, eating only one meal at the end of the day before heading to church. Holy Thursday, which many Western Christians call Maundy Thursday, commemorates the Last Supper, and wine and oil are permitted on this day. For those who keep the strictest observation of the fast, this will be their last meal until after the Divine Liturgy on Easter. Even for those who don't adhere to this interpretation of the fasting rules, Good Friday, the day that recalls Jesus' crucifixion in death, is widely taken as a day of total fasting.
Holy Saturday is also observed as a day when believers should eat as little as possible. Some sites I've read recommend only a little fruit in the afternoon. Holy Saturday is a day mostly spent in prayer. For some of us, it will be a time of reflecting how we have failed in our Lenten practice yet again.
Reflecting on my Lenten journey, which has not been as successful this year as I might have liked, I found this quote from the website of the Antiochian Orthodox Archdiocese of North America particularly relevant. "It is important to keep in mind that fasting is not a law for us — rather, a voluntary way of remembering to not sin and do evil, and to help keep our focus on prayer, repentance and doing acts of kindness, for we 'are not under the law but under grace' (Romans 6:14)."
For my last fasting recipes for this year, I offer three easy salads that can be made in advance and saved in case you are only grabbing a quick meal before church.
Alexis's salad
(Courtesy of Alexis Halliwell)
Ingredients:
2 cans chickpeas, rinsed and drained; 1 red onion, sliced; seeds of one pomegranate; coriander to taste; lemon juice to taste; salt and pepper to taste
Caramelize onions. Use oil, if it doesn't violate your fast. Otherwise, water will do. Mix onions, chickpeas, and pomegranate seeds in a bowl with the onions. Sprinkle with spices and lemon juice. Mix well.
Note: During non-fasting seasons, goat cheese is a good addition.
Vegan White Bean Salad
Ingredients:
2 cans cannelini beans, rinsed and drained; ½ cup chopped onion; ½ cup chopped celery; ½ cup chopped carrot; 1/3 cup lemon juice; ½ tsp sage; 1 Tbsp lemon zest; 3 cloves garlic, minced; ½ tsp salt; ¼ tsp red pepper flakes
Mix everything together in a large bowl and marinate for 30 min or more.
Apple Zucchini Salad
Ingredients:
1 lb zucchini, diced; 3 apples, diced; ½ red bell pepper, diced; ½ green bell pepper, diced; ½ red onion, diced; 2 Tbsp red wine vinegar; 1 tsp sugar; ¾ tsp sald; ¼ tsp pepper
Combine diced vegetables in a bowl and mix well. Sprinkle sugar, salt and pepper over the vegetables and mix well. Pour vinegar over the vegetables and toss to coat. Let sit overnight if possible.
All rights reserved by Rossiyskaya Gazeta.