Russian Orthodox Palm Sunday: Pussy willows and a fish dish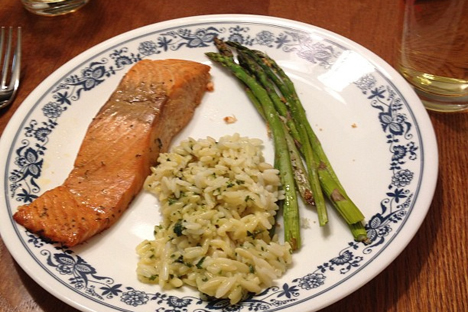 Orange Glazed Salmon. Source: Will Gurley / Flickr
On this last Sunday of Great Lent, believers celebrate a great feast, and are therefore allowed a little leeway in their diet.
Today is Palm Sunday – the beginning of the end of Great Lent. On this day believers celebrate Christ's arrival into Jerusalem, and any Palm Sunday service is a celebration that recalls the happiness of Jesus' supporters when he arrived in the city.
ICON OF THE DAY:

Triumphal-Entry
According to the scriptures, they greeted him with shouts of "hosanna!" and the waving of palm branches. In Russia, where there are no palm branches, believers traditionally carry pussy willow branches to church.
The feast is a continuation of the celebration of Lazarus Saturday, the day when Jesus raised his friend Lazarus from the dead.
The Orthodox traditions of Palm Sunday differ somewhat from my own Episcopal traditions of this day. In the Episcopal Church, the Palm Sunday service begins with songs and shouts of "hosanna,"
but quickly turns somber, as the gospel reading is that of Christ's Passion. Worshipers leave the church on Palm Sunday already in the mindset of Holy Week.
For Orthodox believers, however, Lazarus Saturday and Palm Sunday are considered feasts of the church, and as such, the fasting rules are relaxed a little. On Lazarus Saturday, caviar is allowed, and on Palm Sunday, fish is allowed.
Since this blog is following the Orthodox tradition, here is a fish dish to feast on before the hardest week of the fast begins.
Orange Glazed Salmon
Ingredients:
400 grams salmon fillet (either one large fillet or several small ones); 1 Tbsp honey; Zest of one orange; 1 tsp orange juice; ½ tsp brown mustard; 2 garlic cloves, minced;¼ tsp black pepper
Preheat oven to 220 celsius or 425 farenheit. Line a baking dish with foil. Place salmon skin down on foil. Mix honey, orange zest, orange juice, mustard, garlic and pepper together to make a paste. Rub paste over salmon. Bake 25 minutes or until salmon is done.
(Adapted from Cooking Light April 2015 issue)
Orange-olive couscous
Ingredients:
1 cup couscous; ¼ cup sliced, pitted olives; segments of one orange, cut into chunks; 1 Tbsp orange juice; ¼ tsp salt
Prepare couscous according to package directions. When cooked, fluff with a fork and mix with orange juice, orange segments and olives.
All rights reserved by Rossiyskaya Gazeta.