Russia as a destination for higher education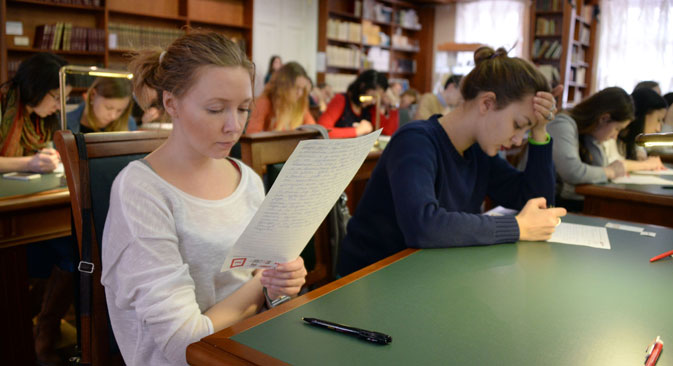 Russian universities offer unique opportunities for international students. Source: Ekaterina Chesnokova / RIA Novosti
The country's academic institutions offer Indian students a lot more than just medical and engineering courses.
When it comes to higher education in Russia, the common stereotype among Indians is that the country is only suitable for medicine and engineering. A vast majority of Indian students enroll in medical courses, some of which have even loosened Russian-language requirements. However, with the Russian economy not in the best shape at the moment, the next couple of years may be a good time to explore other professional courses or even arts-related disciplines in the country.
Many young people in India who I have spoken to have expressed a desire to live and work in Russia, but have little idea about how to go about with it. I'd actually recommend such people to think on the lines of doing a management or business-related Masters program in the country. While several institutes in Moscow and St Petersburg now offer English as a medium of instruction, it may actually make sense to take a more traditional route; that is learning Russian for a year and then actually doing the course in the language.
Unless someone is in a senior management position or taking up a job that requires highly specialized skills, working knowledge of Russian is quickly becoming a must. If an aspiring professional from India is looking for a good opportunity in Russia, this may ideally require an investment of up to three years, with the first year going into learning the language. With the base in Russian being strong, it would be much easier to get a complete grip on the cultural nuances, business etiquette and a general idea of how the society works.
Given the nature of economic cycles, the job market would be more lucrative in the next couple of years when the economy would have significantly recovered. This is also a good time to live in Russia when it comes to cost competiveness. The initial fall in the ruble caused a price rise in many commodities, but over the last few months, that trend is being reversed. In fact, an exodus of expats from Moscow and St Petersburg because of economic woes in the country, housing rents have drastically reduced in the two largest cities in Russia. A mid-level executive looking for some sort of specialization in Russia may just find this the best time to live in the country, where logic and prices rarely go hand in hand.
Besides strictly business fields, there is also an opportunity to enroll in political science courses. With Russian universities slowly moving towards a European-style educational structure, the number of exchange and research opportunities is growing in this area. For instance, the St Petersburg State University is participating in a research-based Masters program on Eastern European studies along with the University of Bologna (Europe's oldest university) and universities in Budapest and Belgrade. Such a program opens the path for a PhD in many of the leading universities in the world. There are also several think tanks on the lookout for people with an insider's knowledge of Russia.
India also has a real shortage of genuine Russia-experts. Given the fact that most university departments in Indian cities connected to Russia are run by those trained in the USSR, many students do not get a real idea of contemporary Russia. The Indian stereotypes regarding socialism and communism when it comes to Russia will not go away until a new generation of experts that are familiar with the modern realities of the country occupy prominent positions in Indian universities. Of course, if recently announced initiatives in cooperation between Russian and Indian universities ever come into fruition, more Indians can get a short to medium term exposure in Russia.
Russian universities are also a treasure trove for those looking for a competent course in fine arts and music. Right from the 19th century, there has been a passion in the country for imparting knowledge in the fine arts. Along with this comes both practical education and tremendous exposure. Imagine learning about some of the greatest painters of all time and then actually visiting a museum like the Pushkin State Museum of Fine Arts in Moscow or the Hermitage in St Petersburg? A student of classical music and dance would have the same privileges in the two cities to watch concerts and ballet.
Adjusting to Russian life
Since Indian publications don't send correspondents to Moscow, many of the newspapers republish articles on Russia that are written by Western journalists. Russia is often misrepresented by many of these journalists since the publications they work for often carry dubious agendas.A couple of years ago, I wrote in detail about common misconceptions and how to adjust to student life in the country. Very little has changed and if one uses the basic suggestions I made in the column, studying in Russia can be an enriching and life-altering experience.
All rights reserved by Rossiyskaya Gazeta.