Russia must increase its outreach to a wider section of Indians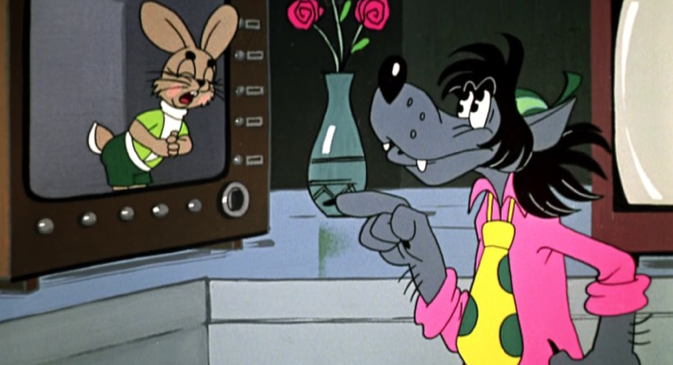 More Indian children should have access to Russian cartoon shows. Photo: Nu pogodi! cartoon
If Russia continues to remain a mysterious and distant country in the minds of most Indians, then the goodwill of the decades-past will slowly evaporate.
A week ago, at the Russia Day reception in one of Mumbai's best five-star hotels, a Russian man in his late-30s introduced himself to me. Speaking in fluent Hindi, thanks to a couple of years of dedicated study of the language in Agra, he claimed to be a huge fan of the Russia & India Report. He said a major flaw of the site was that there are no dedicated sections to Indian languages. "How will Russia reach out to the real India, if articles are only written in the language of the elite," he asked. He lamented the fact that there were only a handful of old Hindi articles on the site. My argument was that almost every young Indian aspired to be fluent in English and that his classification of the language as something spoken only by the elite was inaccurate.
The young man did have a point when it comes to Russia's overall outreach in India. As far as I know, there are very few Russian cultural or informational initiatives in Indian languages. There was a fairly successful program on FM radio, where the host spoke about life and events in Russia. Last I heard, it was discontinued in February of this year. Without such initiatives, the general ignorance about Russia in India will only worsen.
To compound the problem, professors in various universities across India complain of a fall in serious enrolment for Russian language courses. A well-known professor, who did not want to come on the record, said there were two major problems: the lack of Russian language short-term scholarships for Indians, and an increasing number of Russian universities offering courses in English. This professor highlighted how almost every European country that offered certificate and diploma courses in the university set aside a few fully-paid scholarships for each level. Russia, the professor said, has even been slow in providing attractive scholarships for graduates. There is also a common complaint, probably unfounded, that almost all of the existing scholarships for higher education in Russia go to students in Delhi.
A few decades ago, there were a large number of technical experts and students in India, who could manage a decent conversation in Russian. This is sadly no longer the case. A high level of competency in Russian not only opens up opportunities in Russia and former Soviet republics, but also in multilateral global organisations like the UN, World Bank and IMF. At a time when knowledge of Russian would give a young professional an edge globally, interest in India is actually dwindling.
Russia definitely has the money to introduce more scholarships for short-term study of the Russian language and culture. Even if it is impossible to do what the Soviet Union did for international students, a brief exposure to Russia will help create cultural couriers for the country.
Outreach to a wider section of Indians goes beyond scholarships. The Russian Government needs to reach out to more Indian language publications to send foreign correspondents to the country. By this, I don't mean taking a handful of journalists on all-expenses paid junkets to Crimea. There are close to 6000 foreign journalists living in Moscow at the moment, but no major Indian media outlet besides PTI even has a provision for a correspondent in the Russian capital. Of course, it would be fruitless for the West-oriented Indian media houses that have an English-speaking audience to send someone over to Moscow.
Russia should try and encourage large publications from Kerala, West Bengal and the Hindi-speaking belt to have a correspondent in the country. The former two have strong links with the country from the days of the USSR, and also have a large community of Russophiles. In these states, the vast majority of people read newspapers in their native languages. Having a fresh perspective from Russia would be a welcome addition for readers. The Hindi-speaking belt of the northern parts of India also has a large number of readers with long memories. Instead of relying on often-biased articles from Russia, readers from India would get an accurate picture if more Indian correspondents lived in Moscow.
In the meantime, a good way to get more young Indians interested in Russia is to have more radio programs in different Indian languages like the FM show that survived for many years. The Russian government could also provide some sort of incentives for those dubbing Russian cartoons and animation films into Indian languages, so that they can be broadcast across India. A whole generation of Indians has been raised on American and Japanese cartoons since the beginning of the millennium. There is no reason why Russia cannot enter this cultural space.
A strong outreach is needed by the Russian Government to build Brand Russia in India. If Russia continues to remain a mysterious and distant country in the minds of most Indians, then the goodwill of the decades-past will slowly evaporate.
All rights reserved by Rossiyskaya Gazeta.