Made in Pattaya: Small units prepare Russian food for homesick expats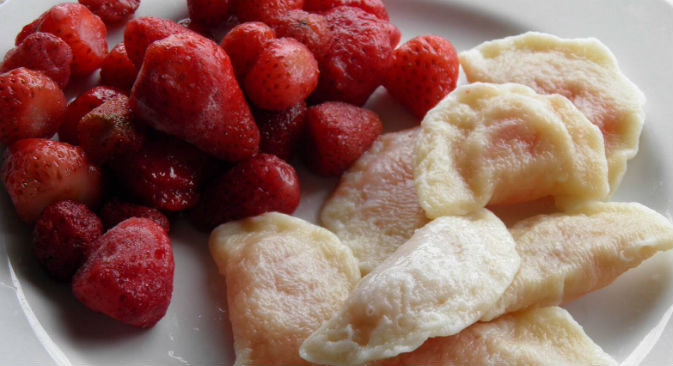 Vareniks with strawberries for dessert. Source: Press photo
There is some relief for homesick Russians in Thailand, who crave for pelmeni, buckwheat and tvorog. Small units in Pattaya are producing a variety of Russian food from bread to meat dumplings.
A pack of ordinary frozen pelmeni (meat dumplings) can always be found even in the smallest shop in Russia, while the country's supermarkets have a complete range of dumplings with all sorts of fillings. Russian expatriates, however, struggle to get their hands on comfort food and their favourite products such as rye bread, buckwheat, tvorog (quark), gingerbreads and pelmeni. Russian shops and small production facilities in Pattaya are looking to meet this demand.
Three minutes in boiling water - and the pelmeni are ready for dinner. Source: Press photo
Aram Bakery is run by a family from the Russian Far East. The Mkrtumian family moved to Pattaya from Blagoveshchensk, equipped a production facility and received the necessary certificates to deliver fresh products to supermarkets in Pattaya. They supply bread, sweet rolls, thin Armenian lavash bread, Russian gingerbreads, pastries and baklava.
The bakery makes its products according to traditional recipes from natural ingredients, avoiding the use of harmful additives, such as palm oil.
Traditional gingerbread cookies - a favorite treat for tea. Source: Personal archive
"My wife is a physician by training, and we have two children," the company's director Aram Mkrtumian says. "We always carefully read the list of ingredients, when we buy them, for example, chocolate. And, of course, when we bake bread, cookies or any other our product, we take care to make it not only delicious, but also high-quality, and, of course, in no way harmful to the health of our customers."
The number of fans of Aram Bakery's products is growing every day, and many come from Bangkok to stock their baklava and gingerbreads. People also arrive from Bangkok to stock up on other Russian food products.
The Best Frozen Food Company manufactures and sells sour-milk products, spicy salted fish and frozen foods, such as varenyky (Ukrainian dumplings) stuffed with strawberries, tvorog and potatoes, baked pirozhki (stuffed buns), cabbage rolls, cutlets, Kiev chicken and of course, pelmeni stuffed with pork, chicken, beef and lamb. Their products also don't contain harmful preservatives and additives.
Local best seller - smoked mackerel. Source: Press photo
Recently, Best Frozen Food and Aram Bakery agreed on a partnership, and are planning to open a few small shops in Pattaya as well as a warehouse for shipping their products to Bangkok.
"We met with Aram here, in Pattaya, and became friends. We then decided that it would be much more effective to promote our products together, because we can now offer supermarkets a wider assortment," says Kemal Karakotov, Best Frozen Food's director and chef.
'Shells' for the traditional Soviet 'nuts 'cookies with condenced milk. Source: Personal archive
"The company also plans to produce smoked sausages and delicacies," he adds. "The necessary equipment has been purchased and will soon be delivered from Siberia." Karakotov says the smoke in their smokehouse is a natural preservative, which is also important in tropical conditions. He says that the company's products are also in demand among non-Russians and this has encouraged them to distribute their products in Bangkok.
All rights reserved by Rossiyskaya Gazeta.