From Manila to the Russian Far East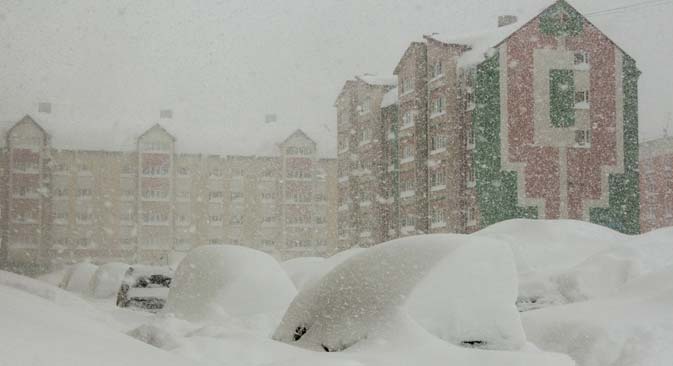 Yuzhno-Sakhalinsk in winter. Source: RIA Novosti
Many Filipino laborers were employed by the Sakhalin-2 project operator to build Russia's first gas liquefying plant. Levi Sequeira, an engineer with a sub-contractor in Sakhalin, found it difficult to shake off this labor class label.
I lived in the town of Korsakov in southern Sakhalin Island for three years. My experiences, like any normal human being, were mixed.
While growing up in Manila, I was one of the few children in my family's social circle who was fascinated with Russia and Socialism. Some of my father's friends visited the Soviet Union and talked about how the society did not have class barriers. More than a decade after the USSR stopped existing, I received a job offer with a sub-contractor for the Sakhalin-2 project. What I witnessed in three years, helped remove any wrong ideas I had about Russia.
It began pretty badly. I landed on a flight from Seoul in Yuzhno-Sakhalinsk and was stopped by the immigration officer at the airport. I had traveled on a business visa and assumed that it gave me the right to work. At least, that was what I was told by my employer. When I told the immigration officer that I would work in Russia, she took my passport and allowed me to enter but asked my employer to contact the Federal Migration Service (FMS)
When I narrated the experience, Tanya, the administrative manager in my office said she would take care of this matter. She sued the FMS and demanded an apology. The government body apologized but demanded a 500,000-ruble (around $18,000 at that time) fine. The matter was resolved amicably but it gave me a taste of the bureaucracy that was waiting for me in Russia.
Sakhalin Island in 2005 had many foreigners and it was not uncommon to see visible non-Russians walking on the streets of Korsakov or the capital, Yuzhno-Sakhalinsk. I could even hear our language being spoken on the streets on Sundays, when Filipino laborers had a day off.
Stereotypes
It is only natural for people to harbor stereotypes of the "unknown" or the "other." Since Sakhalin had many Filipinos working as laborers on the liquefied natural gas plant, people generally assumed that all of us were laborers.
I heard complaints from some Russians about companies hiring foreign laborers when there were many unemployed locals. The firm I worked for said they first tried to hire Russians from the northern part of the island but many of them would vanish for days or even weeks after they were paid their salaries. It is such experiences that forced companies to hire foreigners.
It was also not easy for me at popular bars. I often had to wait for a long time to be served by bartenders, who would mix drinks much quicker when a Russian or Western expat asked. A close Russian friend told me that this was because they assumed I was a laborer! So much for a society that once was proud of not having any class barriers.
Of course, there was a lot of good to my life in Sakhalin. I loved the white and sunny winters on the island. I had never seen snow before I moved to Russia and being in the snow was something I never stopped enjoying. I also managed to make some great friends.
Russians are not open and may even appear cold to outsiders, but once you become friends with a Russian person, it becomes a serious relationship. It has been seven years since I left, but I am still in touch with my Russian friends.
One thing I have in common with Russians is a love for Japanese food. Sakhalin has both great seafood and some very good Japanese restaurants.
As someone who saw Socialism and the USSR with a great degree of romance, I have a yearning for those days when Russia promoted friendship of all people and races. There was also a time when Russia was a superpower and many people lacked the kind of inferiority complex they have now, when comparing their country to the West. Maybe I was born three decades late, and would have had a more fulfilling life if I lived in Russia in the 1960s and 70s.
All rights reserved by Rossiyskaya Gazeta.