Russian Far East offers several new opportunities for India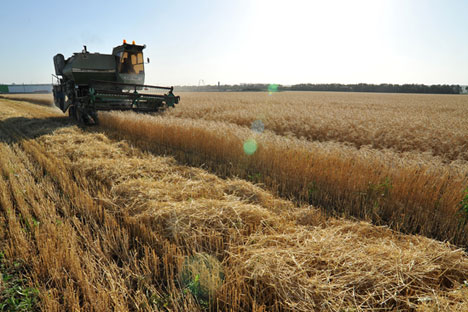 India could lease farmland in the Russian Far East. Source: Alexander Pogotov/RIA Novosti
From special economic zones to farmland on lease, the Russian Far East can become one of the main drivers of India's 'Act East' policy.
For years Indian strategic analysts and thinkers have been talking about the opportunities offered by a large area in Russia that stretches from Siberia to the country's Pacific Coast. Eyeing both expansion of cultural contacts and economic opportunities, India was one of the first countries to open a consulate in the city of Vladivostok. Yet, over the last two decades, little groundwork has been done to tap into the vast economic potential of the region.
Now, as Russia's trade and economic activities with the West slows down on account of political tensions, the country is opening up its Far East in an almost unprecedented scale. Plans were announced earlier this year to make Vladivostok a free port. In addition to this, the Russian Government officially launched special economic zones that offer major incentives and tax breaks called territories of accelerated development (TAD).
Several companies from Australia, South Korea and Singapore have expressed interest in investing in these zones. Indian companies should follow suit and set up operations in these TADs. The proximity of these zones to the markets of North Asia give Indian companies even better access to China, Japan and South Korea (a country with which India has a comprehensive economic cooperation agreement). Investing in these special zones will also help increase trade turnover with Russia and create jobs for both locals as well as Indian specialists.
A strong Indian business presence in the region may also help companies like ONGC to sign more lucrative oil and gas exploration projects. Little is know about the status of the several projects that were offered to India's main oil and gas explorer in Magadan two years ago.
The world's fastest growing major economy imports close to 80 percent of its energy requirements, and a large part of this comes from the Persian Gulf region. Given the volatility of the Middle East, there is an increasing urgency for India to look at Russia to increasingly meet its growing energy demand. There are going to be projects that fail to meet initial expectations like ONGC's Imperial Energy, but this is a risk that is a part and parcel of the industry. BP had to leave Sakhalin empty handed as the Sakhalin 4 and 5 projects fizzled out.
Food security
Given the fact the agricultural yields are reducing every year in India and a monsoon failure can have a serious impact on the country's food security, the Indian Government has actively encouraged Indian companies to lease agricultural land in sparsely populated countries.
More than a hundred Indian companies have entered the agricultural sectors in East Africa and South America. While countries in those regions can help India a lot in guaranteeing its growing food requirements, there is always a danger that some relatively unstable nations pose. Unscrupulous politicians often vent their ire on outsiders "taking land" and a regime change in many of these countries could mean that populist governments may nationalize the land and assets.
Such a scenario is next to impossible in the Russian Far East, where India enjoys the same kind of goodwill it did at the peak of Indo-Soviet ties.
Recently, a preliminary agreement was signed between a Chinese company and a Russian region, east of Lake Baikal, to lease more than 100,000 hectares of farmland. While the local government tried to convince locals that this is a win-win situation forthe economically depressed Zabikal Territory and the investors, fears persist of Chinese designs on Russian territories bordering China. A similar proposal where Indian companies lease land in the Russian Far East would not be met with resistance or hostility, given that there is no fear of an Indian invasion of the region.
A dedicated trade mission
As someone who has visited the Indian consulate in Vladivostok and used its services, I can safely vouch for the fact that it is one of the friendliest Indian missions anywhere in the world. It, however, has a very narrow scope of activity. Given the increasing economic importance of the Russian Far East for India, a dedicated Indian trade mission in Vladivostok is the need of the hour.
India needs to hire professionals on a contract basis with set economic and trade targets to operate such a mission. This may seem like a revolutionary idea where colonial-era like bureaucratic structures surround anything that has to do with the government. But, the only way that India can tap the economic opportunities available in the Russian Far East is to have a team of young and motivated professionals with proper performance-based financial incentives living in the region.
With Russia expanding its Asian outreach, it's a matter of time before India's competitors with geographical advantages move in.If a proper strategy is developed, the Russian Far East can become one of the main drivers of India's 'Act East' policy.
All rights reserved by Rossiyskaya Gazeta.