Under watchful eyes: North Korean guest workers in Sakhalin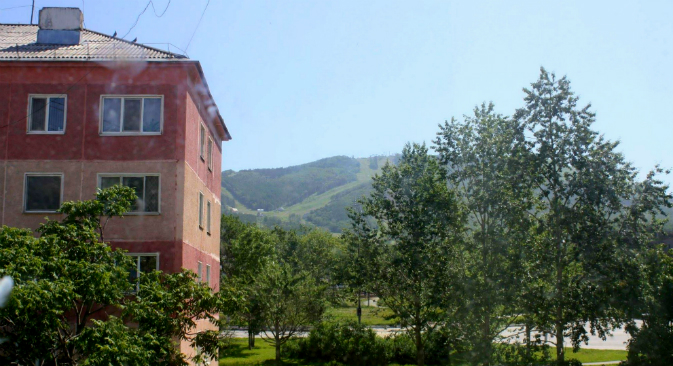 North Koreans are in high demand in Yuzhno-Sakhalinsk (pictured above). Source. RBTH/Ajay Kamalakaran
The oil-rich Russian island has a small community of North Korean laborers, who mainly work as electricians, carpenters and garden hands. They have a reputation in Sakhalin for being hard-working and are in high demand, but North Korean officials keep a tab on their movements.
I was in for a real surprise this month when a friend of mine in Yuzhno-Sakhalinsk (the capital of the oil and gas-rich Sakhalin Region), invited me to see his new apartment. The large flat was a work in progress. My friend wanted to completely overhaul its Soviet interiors and make it look a lot more European. He hired a contractor who promised a quick and efficient job for a relatively inexpensive fee. The catch was that the work would be completely undertaken by North Korean guest workers.
Given how closed a country North Korea is, I was eager to strike up a conversation with the workers in the flat. They surely had an interesting tale or two to tell me, I thought. The men were all in their mid-40s and none of them spoke much Russian. I decided to find a Korean-language translator and head back to the flat to get a glimpse of their life back home and in Russia.
The next day, I turned up with an interpreter around the time the workers were about to finish for the day. Armed with snacks and beer, I tried to put the carpenter, a plumber and an electrician at ease and work up a conversation.
"We love it here," Slava (they have all taken Russian names), a plumber from a small village near Pyongyang, said. "The Russians treat us so well and look after our food and accommodation on top of paying our wages." As I was to find out later from my friend, he paid less then half of what he would have paid Russian workers. The contractor apparently took a big chunk of the fees and then the North Korean government had its share, before "pennies" were paid to the laborers.
Slava seemed to be happy with his life and money. He said it was enough to support his family back home. The man, who proudly wore his Kim Il-sung, pin on his shirt, said life was hard in his home country but the people sacrificed for the "greater good" and for national sovereignty.
Others workers also described their country in a romantic manner, and were optimistic about life in Sakhalin. Ivan, a carpenter from a settlement near the Russia-North Korea border, said he was happy that Korean food was easily available even in small shops in Yuzhno-Sakhalinsk. He added that the salads were modified a bit to suit the Russian palate but he liked the taste.
The men seemed to be relaxed as they spoke to me, but the next morning my friend called and said his contractor was angry that I went to the flat and interviewed the workers. Apparently one of the workers informed his North Korean government supervisor about our conversation.
My friend said the workers were unaware that they were talking to a journalist and were later told to refuse to talk to me again. The contractor then explained to my friend about how "unofficial" supervisors of the community were tracking the movements of all North Koreans in Sakhalin.
The contractor told my friend about a hard-working electrician called Misha, who was popular with his clients. Misha lived in Sakhalin for three years and had built up a good reputation. He even became fluent in Russian. One fine day, the contractor was told that Misha was called back to North Korea. The cardinal sin, for which the electrician was punished, was tardiness! Misha was not late on the job, but he overslept on a Saturday morning and missed the first 30 minutes of a weekly two-hour government program, modeled on the lines of a church service. It is mandatory for all North Koreans in Sakhalin to attend this "Kim-family service" and to be there on time.
Other workers told my friend's contractor that Misha was jailed in North Korea! There is no way of verifying these claims but a Sakhalin Korean friend of mine, who has interacted with North Korean workers says he has heard worse stories. Workers told him that a man working as a gardening hand in the summers was accused of interacting with South Korean spies and sent to a labor camp.
When I approached a friend who works in the Russian Federal Migration Service (FMS) and told him about all this, he said, it was the North Korean government's responsibility to protect its citizens, and that the FMS was only concerned with issuing work permits and ensuring that labor laws were being followed by foreigners.
I was told by others that South Korean pastors in Sakhalin were spreading propaganda against North Korea and were trying to convert North Koreans and help them immigrate to the South.
The workers I spoke to a couple of weeks ago are still in Sakhalin and are busy working in my friend's flat. I am happy that they weren't punished for talking to me. My heart does go out to countless others, who face draconian punishments for 'insubordination' to the North Korean regime.
All rights reserved by Rossiyskaya Gazeta.