Russia's sports 'propaganda' paying rich dividends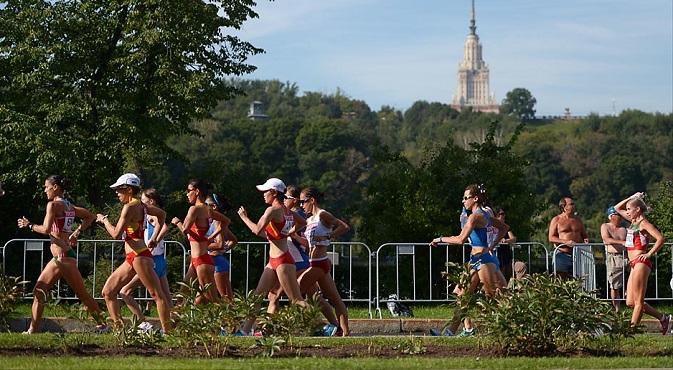 The youth of Russia take sports seriously. Source: Grigori Sisoev/RIA ovosti
The Russian government's active promotion of sports and a healthy lifestyle over the past decade is beginning to pay off in a major way. India would be well served to follow suit.
Recently, the Russian Pacific city of Vladivostok hosted two major international sporting events, the Russian Grand Prix Badminton and a Russia vs. Spain Davis Cup tennis tie. As I walked around the beautiful city, I noticed the posters and billboards of both events everywhere. The city, which was put on the world map, thanks to the APEC summit in 2012, is fast becoming a major sports center. Of course, residents of the city were disappointed that Rafa Nadal was injured and could not make it for the Davis Cup tie, but there was nonetheless, a great degree of excitement around the tennis.
Sports have managed to capture the imagination of the youth in Vladivostok. On a visit after a gap of 9 years, I was surprised to see a large number of runners and joggers on the promenades and the hills of the city in the evening. It felt like teenagers and young adults were shunning beer and junk food for sport. Not everyone going for a run was pursuinga sports career, but I had the feeling that there was a major change in outlook towards fitness and sports in the city.
This new energy towards sports was visible in Sakhalin as well. A few years ago, the only people I used to see seriously engaging in sports during the summer were skiers training on roller skates since there was no snow. Now there is a whole industry for training children in various sports. I even saw a large number of 5 and 6-year olds learning to play tennis, under a program that was sponsored by the Sakhalin administration.
When I spoke to a physical education professor at the university, he said there was a large increase in enrolments for their discipline, and children and parents alike were taking sports and fitness more seriously. The professor said around 300 children from the region went for a sports camp to Japan to get international exposure at a young age. Incidentally, I saw a large group of children from the Amur Region at the Vladivostok airport heading for a similar camp in North Korea (!!).
Eventhough the Russian football team hasn't had the best of times recently, the country is once again emerging as a world power in a whole host of summer and winter sports. The real revival in sports in the country started with Boris Yeltsin popularizing tennis. His successor Vladimir Putin should really be given the credit for turning young Russia into a fit and sporting nation. The Russian President has really been leading the country by example.
A senior Russian diplomat attributed this revival in fitness and sports in the country to what he called sports 'propaganda.' Obviously he meant to use this loaded word in a positive sense. The directions have gone from Moscow to the farthest reaches of the country to aggressively promote sports among both the youth and the middle aged, he said. The results are clearly visible, especially in the Russian Far East and many smaller towns across Russia.
India needs some sort a similar sports revolution. It's quite obvious that the Indian Prime Minister takes health and fitness seriously. After all, it was his vision that led to June 21 being declared International Yoga Day. The events related to the day were popular in many other countries, but we are still to see some sort of yoga revolution in India. The spiritual and physical Indian practices are trendy among the urban youth but it wouldn't be accurate to compare India's yoga fever with the sports revolution in Russia.
India needs to promote sports in tandem with yoga. We are witnessing a situation where lifestyle diseases are increasingly striking younger people. It's no longer uncommon to hear about 30-year old diabetics in Indian metros. India needs a serious sports culture to ensure that the youth of tomorrow don't end up having a series of lifestyle diseases.
A good starting point would be to improve public sports facilities in the country, or at least ensure that municipal corporations across the country landscape jogging and walking tracks in residential areas. This is something that has been successfully implemented in many Southeast Asian cities. The public sports facilities across Russia have also improved a lot since the early 2000s.
Another way of implementing a sports and fitness culture in the country is to offer tax incentives to companies that sponsor, promote or organise(non-cricket) sporting events. Hindi film actor Aamir Khan had an episode dedicated to sports in his popular television program Satyameva Jayate. Such initiatives are few and far between.
Like in Russia, active promotion of sports and fitness has to be a largely government-backed initiative. The results will begin to show in a few years, making India fitter and more competitive in international sporting events. Given the fact that India is one of the youngest countries in the world with 65 percent of the population being under 30, a fitter population will help increase productivity in every area of life.
All rights reserved by Rossiyskaya Gazeta.