A history of Russian language studies in South Korea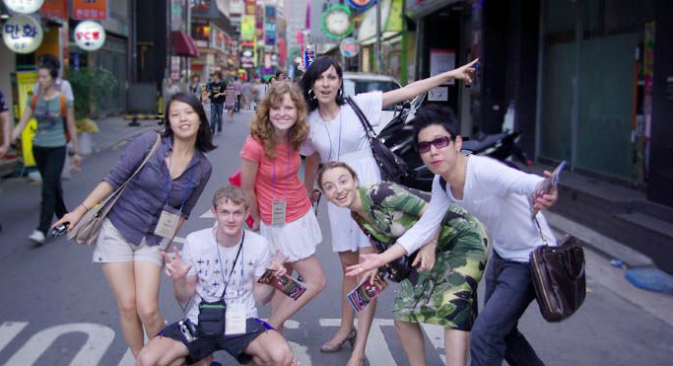 University students in South Korea. Photo: http://eng.vvsu.ru
For decades, Russian was seen as politically suspicious in South Korea. The South Korean state was militantly anti-communist, and the Russian language was – rightly or wrongly – perceived as the language of the 'reds'.
While South Korea was ruled by a succession of militantly anti-communist dictatorships (until 1987 or so), the study of Russian was not an easy task. Soviet books were banned, and even stamp collectors could get into trouble if they showed excessive interest in Soviet stamps. Even records of classical Russian music were seen as politically dubious if they happened to be produced in the then Soviet Union.
Nonetheless, a Russian language department was opened at the Hankuk University of Foreign Studies in 1954. For a long time, this university, the major center for foreign language education in South Korea, remained the only place where Russian could be studied. Much later, it was joined by two other schools (admittedly more prestigious): Korea University and Seoul National University, which opened the Russian departments in 1974 and 1984, respectively. In 1985, Chosun University in Kwangju became the first place where Russian could be studied outside Seoul. Apart from that, a number of Korean students were sent by the government to study Russian in Europe and the US.
Generally speaking, the Russian language was not a particularly popular major. To a large extent, this was the result of the uncertain employment prospects. The best students could of course expect to get jobs in the government – perhaps in the military or intelligence service – but for the majority the prospects were not so bright.
Needless to say, it was difficult to find a native speaker for speaking practice. As a rule, holders of Soviet passports could not get a South Korean working visa until the late 1980s. Therefore, in most cases, universities employed Russian émigré who were citizens of non-communist nations. Some of them came to stay for a brief period, but there were some adventurous souls who stayed for decades in a row.
Things began to change after the 1988 Olympic Games. At the time, the Soviet Union was approaching its demise, but a majority of outside observers had a remarkably rosy picture of the USSR's future. They believed that Gorbachev's reforms would soon produce a booming economy, which would become a great market for Korean goods and services. These short-lived illusions created a remarkable demand for Russian studies and from the late 1980s a proliferation of Russian departments began.
There was also a dramatic upsurge in interest in Marxism-Leninism among university students in South Korea in the 1980s. South Koreans born in the 1960s managed to live through the great success story in the world history of capitalism without noticing, and many of them were seduced by the forbidden fruits of communism. They saw Russian as the language of the bright communist future and were perplexed when they saw how their newly arrived Soviet teachers reacted to the mentioning of communism or respectful references to wisdom of Vladimir Lenin.
The Russian studies boom soon waned. Nonetheless, after 1990, it became possible to study in Russia and as a result younger generations of students spoke better Russian. Scholars began to use original sources. At the same time, trade between the two countries continued to grow fast – albeit not as fast as was initially hoped – and this created a number of job opportunities.
So, as of today, Russian is taught in some 40 universities across Korea and is the fourth/fifth most popular foreign language in the country (after English, Chinese and Japanese).
This article was first published by RBTH Asia.

All rights reserved by Rossiyskaya Gazeta.