Editor's choice: Eye on North Korea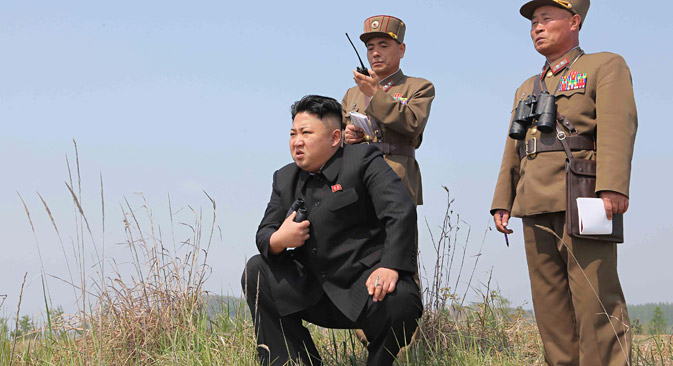 North Korean leader Kim Jong Un (C) guides the multiple-rocket launching drill of women's sub-units under KPA Unit 851, in this undated photo released by North Korea's Korean Central News Agency (KCNA).
North Korea is once again a hot topic. RBTH's Asian Editors bring you a selection of our most popular articles on the enigmatic country and its citizens.
July 31, 2015 Ajay Kamalakaran, RBTH
The oil-rich Russian island has a small community of North Korean laborers, who mainly work as electricians, carpenters and garden hands. They have a reputation in Sakhalin for being hard-working and are in high demand, but North Korean officials keep a tab on their movements.
---
June 3, 2015 Sergei Dolmov, special to RBTH
Russia benefits by developing a special relationship with North Korea, because it would give her a trump card in bargaining with the United States, and the ability to demand concessions from Washington in other areas of foreign policy.
---
July 6, 2015 Gevorg Mirzayan, special to RBTH
Moscow and Pyongyang are planning to sign an agreement on preventing dangerous military activities. Experts consider this agreement as a reaffirmation of the special nature of relations between the two countries. They also talk about the prospects of further rapprochement between Russia and North Korea.
---
May 23, 2015 Yelena Kim, RBTH
Kim Jong-un's refusal to attend the Victory Day Parade in Moscow raised many eyebrows in Russia. However, Russian politicians and experts agree that this will not affect relations between Russia and North Korea.
---
RBTH
Vladivostok, Russia's largest port city, is located 9,500 kilometers (5,903 miles) to the east of Moscow. Within close proximity to it is the 17-km-long (10.5-mile) border along the Tumen River separating Russia from North Korea. North Korean fish poachers often end up on Russian shores due to storms and fog. This coastal beach is home to the final resting area of many North Korean boats…
---
All rights reserved by Rossiyskaya Gazeta.