Editor's Choice: Best of Russia in the Asia-Pacific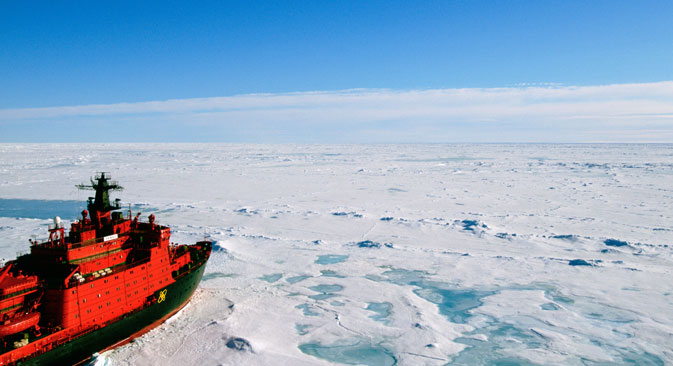 A nuclear icebreaker at the North Pole. Source: Alamy / Legion Media
Articles on Singapore's 50th anniversary celebrations, Sergei Lavrov's meetings with ASEAN ministers, and India's potential interest in the Mistrals that France refused to sell to Russia were among the highlights of the week on asia.rbth.com.
August 14, 2015 Levi Sequeira, special to RBTH
Russians and Filipinos share a lot in common, but have conflicting views when it comes to cuisine.
---
August 12, 2015 Viktoria Semioshina, RBTH
Dagestan, Chechnya, Ingushetia send the largest number of Russian pilgrims to Mecca and Medina. Russian Muslims tend to find the pilgrimage more physically and mentally challenging than Indonesians, Malaysians and Iranians.
---
August 10, 2015 Alexey Timofeychev, RBTH
Russian Foreign Minister Sergey Lavrov visited Kuala Lumpur last week for ASEAN's ministerial meetings. He also had an opportunity to hold standalone talks with several of his counterparts from the Southeast Asian grouping. Experts believe ASEAN countries look at Russia not just for energy security, but also as a source of high technology.
---
August 13, 2015 Aram Ter-Ghazaryan, special to RBTH
Russian scientists say their new model for the Arctic's tectonic evolution shows that the underwater Lomonosov and Mendeleev Ridges are part of the Eurasian mainland. This apparently substantiates Russia's claim to 1.2 million square kilometers of Arctic sea shelf. At stake is control over vast natural resources, and opposition from western nations is almost certain.
---
August 10, 2015 Alexander Korablinov, RBTH
A leading Russian defense industry expert believes that Vietnam, and India may be interested in buying the Mistral-class helicopter carriers that France refused to sell to Russia.
---
August 13, 2015 Andrei Lankov, special to RBTH
'Fifth Photo,' a novel by Rim Hwa-won, was a North Korean attempt to explain what happened to the once great Soviet Union and why its people jettisoned the 'glorious' socialist system.
---
August 11, 2015 Rakesh Krishnan Simha, special to RBTH
Moscow is taking a calculated gamble that the strategic benefits of exporting weapons to Beijing will outweigh the risk of Chinese copying.
---
August 9, 2015 Anton Tsvetov, special to RBTH
The fact that Singapore managed to shoot straight into the first world with a very rigid political system and consistently low scores in press freedom gives hope to those dreamers who wish to see economic prosperity for Russia, without significant political change.
---
All rights reserved by Rossiyskaya Gazeta.