It's hard not to fall in love with famed Russian artists when you're staring at one on Skype who has a broad smile, an affable manner, and actually knows who I am. And he's a really nice guy.
After more than a decade, I caught up with two-time Oscar nominee Sergei Bodrov several days ago. Bodrov is a film director, screenwriter, and Hollywood producer, whose most recent film, Seventh Son, starring Jeff Bridges and Julianne Moore, and distributed by Universal Pictures, appeared in theaters last February. I confess, I'm not a close friend of his, but were I to try and get the attention of an equally famed American director, actor, and producer, I highly doubt anyone would pay attention. I know this because I've tried to do it before. No can do.
Seventh Son - Interntional Trailer. Source: YouTube / Universal Pictures
As a budding journalist in Moscow, back in the 1990s, I used to cover the celebrity beat for The Moscow Times, an English-language daily that serves diplomats, businessmen and most of the foreign community in the Russian capital. I was told to go out and interview American and European celebrities that were beginning to arrive in the Russian capital, like everyone else, in search of a new market, and more business.
I was tasked with tracking down and talking to the bulky Sylvester Stallones and the crooning Bryan Adams of the world, all who were arriving to promote their movies, put on shows, sign autographs, and do whatever else performers do when they are on a world tour stopping over in Moscow for a couple of days.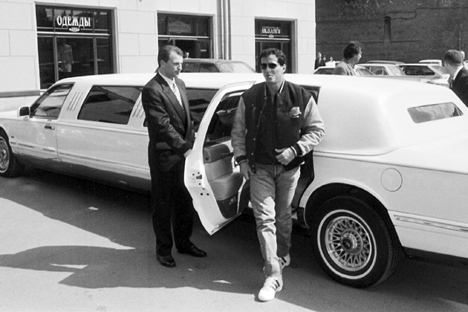 Stallone in Moscow, 1997. Source: Igor Tabakov
The new Russians had money to burn back then, and they were eager to see their beloved Hollywood greats up front and in the flesh for the first time since the cold war had ended.There were the days, I recall, when tickets to see the Las Vegas-based magician David Copperfield cost over one thousand dollars.
They weren't always very easy times. I rode with my photographer in an elevator with Stallone once, and suddenly he started yelling about a camera angle he apparently didn't like.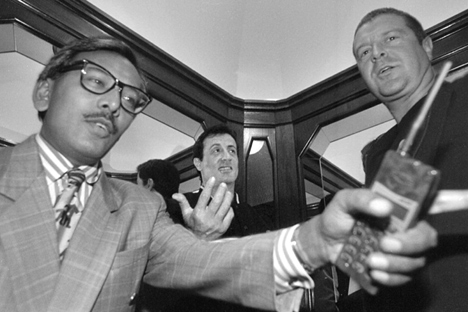 Stallone in Moscow, 1997. In the elevator. Source: Igor Tabakov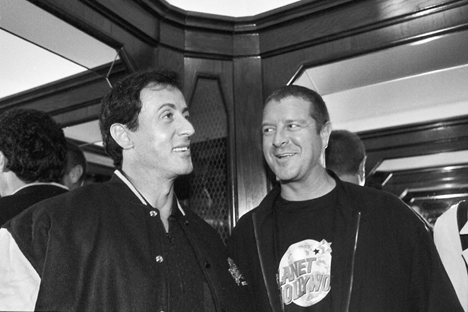 Stallone in Moscow, 1997. In the elevator. Source: Igor Tabakov
I covered the Russian celebrity world as well, writing about them in a fashion that was both educational and informative to the Western readers of The Moscow Times who had no idea who people like Bodrov were. The Russian celebrities, in contrast, were quite intellectual about the role of the artist in their homeland, and didn't seem to show up surrounded by dozens of bodyguards and managers.
I first met Mr. Bodrov when he was dressed up in a tuxedo at the Russian NIKA awards in 1997, their equivalent of the Oscars. That night he won for best director and best film. In reality, he's a jeans and t-shirt kind of guy, with a loopy smile and a down-to-earth manner. Most celebrities would have forgotten me by now, having been interviewed by hundreds of journalists over the years.
He remembered me recently. We didn't talk for long the other day on Skype, but it was enough to talk about our favorite topic that we have in common: the Russian circus and our common friend Pasha Brun, the former Cirque Du Soleil artistic director from Russia who moved back to Moscow. I peppered Bodrov with questions about his circus bear movie, The Bear's Kiss, about which I was desperate to know: Were the bears real or were they computerized?
The circus folk who now are performing in my home town of Reno decided before my conversation that he must have filmed the bear, if it were live, and the heroine, a young woman, at separate times, which, in the movie, would have the camera focusing on her for a moment, then back to the bear, then back to her, etc. They were sure that the bear's trainer acted as something akin to a stunt man, or a body double.
But no, Mr. Bodrov said, the actress and the bear, who had never met each other before the film started, actually interacted together –(in other words, the bear was real) in some scenes they were dancing together cheek to cheek. It's common knowledge in the circus world that dangerous animals such as the famed Russian bear must only be touched and surrounded by their owners, who've often trained them since birth.
But somehow magic was made in Mr. Bodrov's movie. He found a bear to dance with the actress, and made a movie that focused a lot on the dark side of circus life, but was a unique look at life on the road.
Wow. Was that an amazing feat! Moreover, my local circus friends, Armenian performers, told me they were good friends with the bear's trainers, who are somewhere else in the world with their bears as I write, performing in their own shows.
Small world.
Mr. Bodrov doesn't know what his next movie is going to be, but he hasn't ruled out doing another circus movie.
I second that.
All rights reserved by Rossiyskaya Gazeta.