Editor's Choice: Best of Russia in the Asia-Pacific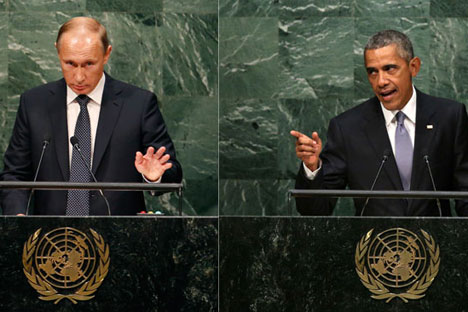 Puting and Xi talking over new Russian smartphone. Source: Reuters
EPA/Reuters
Articles and features about Yotaphone shifting production to China, Russia's warming strategic ties with the Philippines, and an exclusive interview of the Thai Ambassador to Russia were among the highlights of the week on asia.rbth.com.
September 30, 2015 Kira Egorova, RBTH
Yotaphone, the Russian dual-screen smartphone, is revising its pricing strategy for the Chinese market and relocating its production facilities from Singapore to China.
---
September 30, 2015 Ajay Kamalakaran, Gleb Fedorov, RBTH
In an exclusive interview with RBTH, Thai Ambassador to Russia Itti Ditbanjong talks about the growing economic, political and cultural ties between the countries.
---
September 29, 2015 Igor Rozin, RBTH
World leaders met in New York for the 70th session of the UN General Assembly September 28. Here are some of the top quotations from speeches by Vladimir Putin and Barack Obama. But can you tell which? Take our quiz to test your news skills!
---
September 28, 2015 Rakesh Krishnan Simha, RBTH
As the Chinese-American rivalry heats up the Asia-Pacific, the Philippines wants Russia to take the lead and cool things down.
---
October 1, 2015 Gleb Fedorov, RBTH
The Moscow State University (MSU) jumped 35 places to 161st in the latest Times Higher Education (THE) World University Rankings. The total number of Russian universities listed increased from 2 to 13.
---
October 2, 2015 Daria Strelavina, RBTH
A Japanese orchestra, under the direction of Masami Takeuchi, staged a concert using matryoshka-shaped theremins. Russian musicians also took part in the fusion concert.
---
All rights reserved by Rossiyskaya Gazeta.