One Russian in a sea of Englishmen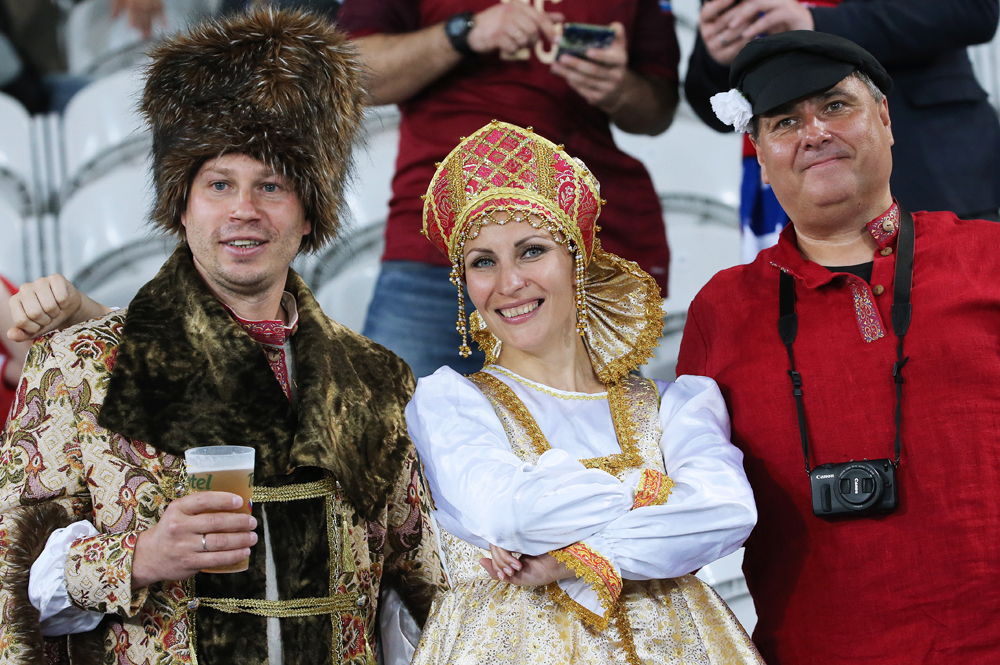 Russian fans wearing traditional costume look on before a 2016 UEFA European Championship Group Stage football match between Russia and Slovakia at Stade Pierre Mauroy.
Alexander Demianchuk/TASS
An insider's view of what happened after Marseille.
A crowd of people in green and yellow T-shirts is moving towards the stadium. All of them are chugging beer from glass bottles, hugging each other and singing songs. The whole crowd is entering the stadium after standing calmly in a long line without any aggression. Inside, the green stand is singing "Stand uuuuup for the boys in green" and the yellow one, "Zlataaaaan Ibrahimovic" to the same tune. Some of the colors are mixed in the same sector. After the match greens and yellows leave without incident and stream towards the Paris metro.
That's how the game between Northern Ireland and Sweden at Stade de France in Saint Denis, that I was lucky enough to attend on June 13, played out. Just fun, joy and a friendly atmosphere without provocations. Fans were just celebrating their national teams, the game and the beauty of football.
Pierre Mauroy stadium in Lille. Source: Alexandra Guzeva
On June 15 I arrived in Lille for the Russia-Slovakia game. The opposite tribune was singing and jumping. Our stand had just a rare "Forward Russia" or "We need a goal" slogan. Sometimes they were heard in the same moment.
There was no unity among Russian fans - because in Russia there is not such a big culture of supporting the national team, there are no historical slogans or songs, no common color. Some fans came in white, blue and red T-shirts, some in the maroon color of the national team's dress, some in their local team's strip, others dressed as boyars (ancient Russian noblemen) or (for women) kokoshniki, old-fashioned headgear. After the game Russians and Slovaks - who you can hardly tell apart from a distance - peacefully moved to metro, stood in another long line to buy tickets and still without any aggression went their different ways.
During the Russia-Slovakia game. Source: Alexandra Guzeva
From the very morning of June 15, Lille was full of drunken Englishmen. England was due to play Wales the next day in Lens, a town a few miles away. But as Lille is a bigger place, with more bars and more Russian fans on the streets, the English fans simply occupied the city and didn't stop drinking and singing the whole day and the next.
They hung the English flag from every convenient spot and kept up a continuous racket. They sang their favorite "Don't take me home/ Please don't take me home/ I just don't want to go to work/ I wanna stay here/ Drink all your beer/ Please don't take me home," and their new favorite "We hate Russians" and "F*** off, Russians." On June 16 they united with Welsh fans and sang "We're England and Wales, f*** off, Russians, we're England and Wales." My friend and I are calm people, not given to openly showing our feelings. But it was really annoying and I understand how people of a lower cultural level could react. And I am sure that Englishmen would react in the same way, if someone screamed the whole day about them in this way.
Russian and English fans in Lille on June 15. Source: Alexandra Guzeva
There were also weird provocations. A group of drunken Englishmen, seeing we were wearing Russian team T-shirts, approached us and rudely asked: "So, have you been in Marseille?" We didn't react. They didn't stop, but continued: "Do you know that your Putin is eating kids?" This question followed with some obscene words about Putin. We didn't react to these drunken louts, but I understand how people could react to this.
English and Welsh fans in Lille on June 16. Source: Alexandra Guzeva
There were some small fights in Lille. But this time the French authorities prevented big brawls - beer was only sold in plastic cups and in brasseries; all shops selling bottled beer were closed. There were really lots of policemen in the streets. Though their behavior could be also called a little weird. With shields and guns they moved around Lille's narrow streets. First they would go on the offensive and then retreat. Two teenagers (I didn't get whose fans they were) found a bottle somewhere and smashed it, provoking a stream of tear gas from the police. Sometimes a battalion of police started to run (but I saw no aggression or danger) and a crowd of journalists with cameras and idle observers shooting on mobile phones followed them. After some time the fans grew tired of this and disappeared.
Only the English caterwauling didn't stop all night and started again at dawn. It was not pleasant at all. So I understand how some Russian fans could become aggressive in the face of this. Instead of celebrating the joy of Euro 2016 and football, people decided to show their political views or to hurt their opponents.
On June 20 Russia is due to play its final group match with Wales in Toulouse. Fingers crossed.
Views expressed in this blog are personal.
Subscribe to get the hand picked best stories every week
All rights reserved by Rossiyskaya Gazeta.