Entry 9 - Hello Wrangel Island!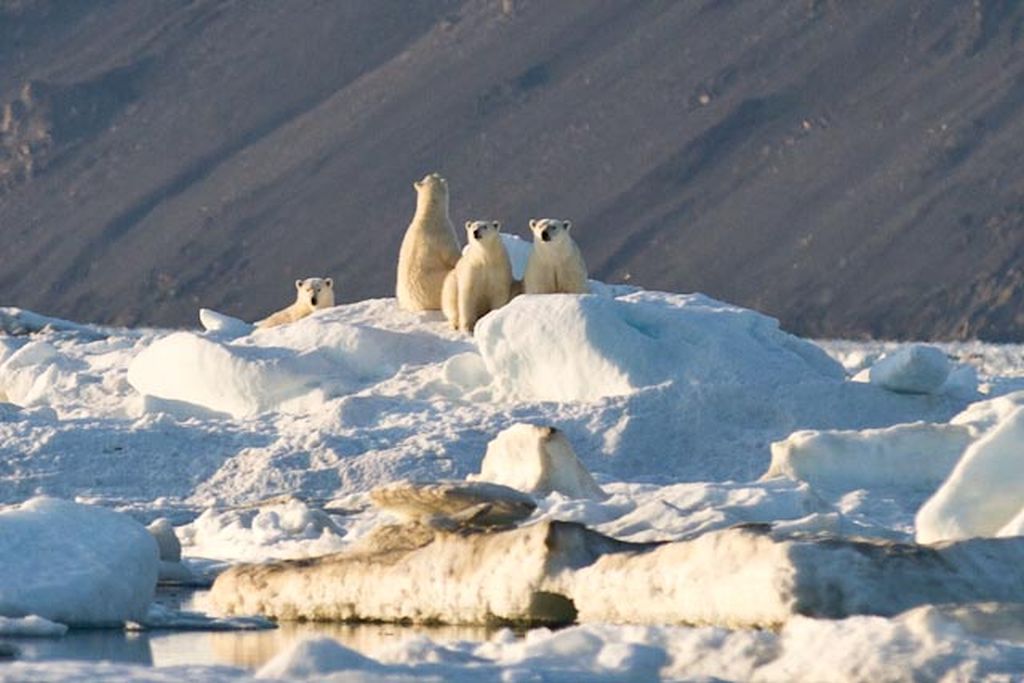 The Wrangel Island.
Heritage Expeditions / MKelly
First impressions of the "polar bear maternity ward."
Yesterday we spent the whole day at sea, "attempting" to get to Wrangel Island. The day was meant for relaxing, catching up on sleep, sorting through photos, attending lectures - that sort of thing. But by then we'd already entered real polar territory with huge chunks of ice floating past us, kind of like in the movie "Titanic". On those chunks roamed polar bears! So most of the morning was spent looking out for them; we even spotted a couple.
The afternoon lecture offered an overview of Wrangel Island's history and its flora and fauna. Unfortunately, it would take several pages to write it all out, so here's a short summary. In the 19th century, an explorer by the name of Wrangel was convinced that this island existed and made several attempts to find it, none of which proved successful however. When the island was eventually discovered, it was named in Wrangel's honor.
In 1911, the Tsar sent two icebreakers to conduct land/ocean surveys and to claim the island for Russia. Not long after the Soviets came to power, they sent Georgy Ushakov to establish a settlement on the island in order to counter several attempts made by other countries to illegally recolonize it. In 1976 Wrangel Island became a nature reserve (the highest level of protection by Russian law) and in 2004 UNESCO declared it a natural World Heritage Site, making it the first Arctic object on the list.
Source: Wikipedia.org/Butorin
You would think that the Arctic tundra is a bleak, desolate place not suitable for life in any shape or form. Wrong. Wrangel Island boasts an incredible diversity of plant- and wildlife: more than 400 species and subspecies of plants, over 169 species of birds, 8 resident mammals and a sizable number of visiting ones. In summers, the island's plains, mountains and cliffs are covered with quite lush grass and beautiful, colorful bouquets of flowers. Trees or any kind of tall plants, however, do not grow on the island. Either way, I can't wait to see it with my own eyes!
Getting to Wrangel Island was a pretty loud and at times bumpy affair as we crushed our way through the drifting pieces of ice, but this morning the island gave us a very warm welcome, literally. The sun's powerful rays beamed down on us from the clearest blue sky, the water was absolutely calm and a few walruses watched lazily on pieces of floating ice as we passed by in the distance. And of course, the island itself looked absolutely stunning so I couldn't put my camera down even for a second.
Due to a very thick ice cover about 5km from the shore and heavy ground fog, it was not possible to land where we had initially planned. No one really complained, however, because ice cruising around the island and looking for wildlife in this beautiful weather was a really wonderful way to spend the morning. And cruise we did! Along the way we saw some curious seals, blubbery walruses and, of course, the island's most famous residents - polar bears.
Source: Heritage Expeditions/KOvsyanikova
Cute creatures aside, the leisurely cruise itself provided some exceptional photo opportunities of the phenomenally beautiful day nature decided to bless us with. I could try to describe it but as the expression goes, a picture is worth a thousand words.
After lunch, the Zodiacs were ready to take us ashore at Doubtful Bay. On the way we encountered a huge group of walruses on an enormous piece of drifting ice enjoying the sunshine - much like ourselves. Although we didn't get super close to them, we got near enough to hear all the...interesting...sounds they make. They remind me of the sounds some people I know make when they really don't want to be woken up in the morning.
Park rangers were waiting for us when we arrived in our Zodiacs. We split into three groups - the hardcore trekking enthusiasts, the leisurely strollers and the ones who like to enjoy the view from the beach - and commenced our walking tour around the south side of the island. Throughout the walk we saw lots of burrows, flowers and a few birds, but the icing on the cake wasa snowy owl that let us get pretty close to it before flying off. And, of course, the landscape itself was quite stunning.
It turned out to be an extremely eventful day with some really amazing wildlife encounters and even a bit of sunburn from the deceptively strong northern sun. To be honest, I still have a hard time believing that I am where I am and am doing what I am doing. I don't think there's a word in English or in Russian to accurately describe the feelings of fascination that I get each time I step out on to the deck and see what I'm seeing.
We've all got our fingers crossed that the island and the weather will show us the same hospitality over the next two days that the expedition program has allocated to Wrangel Island.
All rights reserved by Rossiyskaya Gazeta.