Of Valentines: love, laughter and tears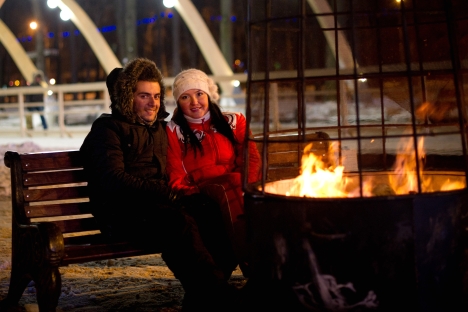 Although Valentine's Day is not so popular in Russia in comparison with the U.S., some Russian couples celebrate this holiday. Source: RIA Novosti / Yevgeny Samarin
An Indian girl in Moscow writes home about her various experiences as the seasons and festivities unfold in the Russian capital.
Hello!
As the January euphoria wears off and Russia begins to sober up and return to normalcy, it's already mid February. And with February comes another spate of celebrations and festivities that begin from Valentine's Day on the 14th , brushes 23rd February, which has become the new age Russian 'man's day' (officially Defender of the Fatherland Day), goes on to 8th March, 'woman's day' which, incidentally, is also celebrated with much fervour.
While Valentine's day is a western festival and the older generation does not quite celebrate it, youngsters, as everywhere, need just the hint of an excuse to celebrate their love. Stores are replete with heart shaped sweets specially packed for Valentine's Day, restaurants offer special discounts for couples and V-day evenings, shops urge you to buy gifts at ostensibly discounted prices and giant red hearts swing from glass ceilings in shopping malls. There is love in the air all around.
The morning begins with young men rushing holding flowers in their hand, looking all flushed and eager to meet their lady love. Cafes are filled with couples sitting hand in hand, kissing or locked in passionate embrace and, as the day comes to a close, one can see many a young woman returning with bouquets and glittery gift bags in their hand.
How I celebrated Valentine's Day this year is something to write home about. I got a call from a friend inviting me to the theatre, profusely apologising for monopolising my "Valentine" evening. It was an invitation to the 'snow show' of the legendary Slava Polunin, which I did not realise until well after we were seated. Apparently it was the last show of the season and the large hall of the Nadezhda Babkin Theatre was packed to capacity.
The 'snow show', in Russian is called the "sNezhny" show. For those who know Russian, this is a beautiful play of words. The second letter 'N' in the word "sNezhny" is deliberately capitalized, as Nezhny in Russian means 'tender'.
This tender snow show is such an assault on the senses, making you laugh and cry, leaving you wondering in the end whether it was meant to be tender or snow. Slava Polunin is famed as the world's best clown. I would call him more of a mime artist. The show opened with two beautiful mime artists on stilts, whose clothes blew up artistically into large balloon like apparitions, leaving the audience to interpret it. To me it appeared to be two souls becoming larger than life in love.
My companion assured me this was just the beginning. I smiled politely and nodded condescendingly at his obvious enthusiasm. Well, little could impress me. I have, after all, travelled all over and seen much. Then some funny green characters appeared, who had the adults falling off their chairs with laughter and the children squealing with delight. It was light and funny and beautifully choreographed. I was at this point only mildly interested and amused. The show was apparently meant to be interactive, and midway through the show, the actors let loose a giant web over the audience, with everyone's hair and earrings and watches getting entangled in it. Soon enough, the actors had me in peels of childhood laughter.
Now, anyone visiting Russia must attend the show if they are lucky enough for it to be running. But the reason I am so highly recommending the show is not only for the fun of getting entangled in a strange silky web or water being sprinkled on you on a cold February evening, or massive rubber balls that come hopping on your head, or strange green men who could carry you off on to the stage and behind the curtains. No. There is much more to it.
The show plays on the subconscious. There are various acts which alternate, making you laugh, then scream, then shock you with loud sounds, or momentarily obscure your vision with a blinding flash of light. After the first half, it had me so shaken up that I began to weep as Slava did his "suitcase" act, as if talking to the audience about the vicissitudes of life. And then, the reason, why a clown is an "artist" of the highest order, dawned upon me. The concept of the tragic clown, which until now, I had considered a myth, validated itself. I came out trembling mildly. Two days have passed and I am still under the spell of the legend that is Slava Polunin. The "Blue canary" music is still echoing in my mind space. Whew!
It still remains cold here, but the snow is beginning to melt making the streets wet. India must be bright and sunny with blooming flowers and dancing peacocks at this time of the year. I could write on forever, mooning about out how Moscow swamps my senses or sighing about my longing for the "green, green grass of home," but I must now go and begin to plan my 23rd February shopping list for all the brothers, friends and male colleagues who have been a source of sunshine in this cold Moscow winter.
So until next time,
Nidhi.
P.S: Don't forget to write to me at indiangirlmoscow@mail.ru. I am waiting to hear back from you.
All rights reserved by Rossiyskaya Gazeta.