Climbing the ladder to circus success – on the holidays and high seas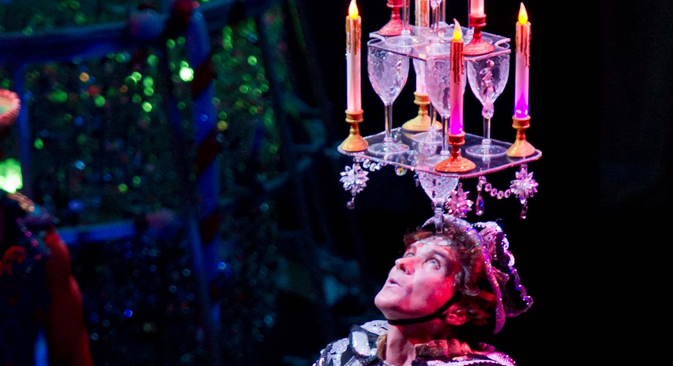 Alexander Rebkovets – the King of balance.
Photo is courtesy of Cirque Productions
Regardless of how a year has passed, winter holiday circus shows always make sure that children have a place to go to end their year on a good note. They are special moments filled with performers donned in winter costumes, dressed like elves and Santa Claus, and showered in snow flakes.
Meet Alexander (Sasha) Rebkovets, who has traveled and performed in Christmas shows around the globe. Off-season he can be found performing on European cruise ships and at Disney World in Florida. But one of his favorite times of year comes in winter, when he dresses as a drummer boy who lives an unusual life on top of a ladder. When that's over, he has this other amazing trick, where he balances New Year's champagne glasses on his head, and not just one of them – there are so many I lost count.
I had the pleasure of meeting Sasha a long way from the North Pole, in the desert state of Nevada, where I live. I was fascinated by his ladder and balancing skills, so much so that I watched him on several occasions. I don't know what it is about ladders that make me shiver, but he let me try to crawl up his once, but I have the balance of a flying tomato and I got scared.
Back in Moscow, I used to love to watch the New Year's holiday shows, which, alongside exhibiting an unbelievable number of circus tricks, always told the tale of Father Frost (Ded Moroz) and Snegurochka, his friend the Snow Maiden. We don't have that tradition here in the U.S. Christmas shows are usually for the ballet, in the form of The Nutcracker. But since a lot of American children don't go to the ballet, not too many get to watch all the fun.
VIdeo is courtesy of Cirque Productions / wfaa.com
Back to Sasha. He comes from St. Petersburg, where he first started performing. He fell in love with the ladder in his youth, and his wife soon joined him on top of….well, on top of him, standing tall, both balancing on about two inches of metal.
These days, when he's not performing in a holiday show, he sometimes finds himself balancing on his ladder on a ship on the sea. Balancing acts on the ocean can be hard to do, he explains, as the cruise ship sways back and forth. Magic acts can sometimes be easier.
Photo by Alexander Rebkovets
But though it's a challenge, what he likes most about the life as a circus performer on the sea is that every few days the ships stop in a different city, and so he gets to travel the world, for free, and get paid for it at the same time. If only I were so lucky.
Photo by Alexander Rebkovets
The holiday times are special. It's the time when everyone hopes for world peace, and a time when circus performers remind the world that through their art, they bring smiles, happiness, and good will to all.
We really could use some of that good will these days. There's a lot more to Sasha's life that's worth learning about. But that chapter will have to come next year.
Until then, Happy New Year 2016. May we soon see more peace and less war.
All rights reserved by Rossiyskaya Gazeta.