From tabloids to state-run dailies: A tour of the Russian press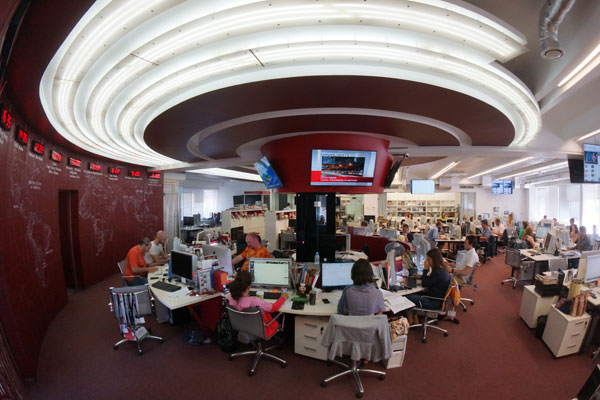 Inside Russia Beyond the Headlines.
Arkady Kolybalov / RG
Rossotrudnichestvo organized a program for young journalists to come to Moscow and learn more about the way the Russian media works.
In early December a group of young journalists from over a dozen countries attended the New Generation program in Moscow, where they had the opportunity to tour some of Russia's key media publications and ask questions about the way the state media apparatus works.
First on the agenda was Komsomolskaya Pravda, an old Soviet stalwart that is still going strong, apparently having the highest web traffic of any paper in Russia. The members of the editorial board were quick to point out that they are, in fact, not state run, which differentiates them from the other papers included in the program. However, they also made much of the fact that "KP", as it is known, is President Putin's favorite paper, which drew raised eyebrows from some participants.
After KP, the attendees moved on to Rossiyskaya Gazeta, where there was a lively debate about what freedom of speech means in Russia. "Yes, we reflect the government position," said the editor, "but luckily the government never agrees with itself, so we always have many views to put forward." He also emphasized that he does not have any ministers watching over his shoulder for what the paper writes and feels that he does have a remit to criticize the government when necessary.
The tour of Rossiyskaya Gazeta also included a trip upstairs to its subdivision Russia Beyond the Headlines, a government-sponsored English-language project to inform foreigners about a side of Russia that they may not get to read in the western media, which tends to reduce Russia to oligarchs, Putin and vodka. Vsevolod Pulya, RBTH's editor-in-chief, insisted that the paper is largely left to its own devices and urged the program's participants to read it for themselves and judge its objectivity that way.
Analyzing Russia's new media business landscape: What has changed?
Freedom of speech was the hot topic for the entire program, with some participants pointing out that, while the majority of papers in Russia are government-owned, western papers tend to be corporate-owned. Hence, neither arguably holds their respective backers to enough account. One participant from Central Asia pointed out that all journalists must walk a tightrope between what their editors, financial backers or advertisers want – particularly in an age of shrinking circulations.
The program definitely stimulated some interesting discussions, and the participants left with a better understanding of Russian media culture – and Russian culture in general. They came to appreciate the vast changes that have taken place in Russia since the middle of last century and understand that the Russian press is not as unrelentingly constrained as it might appear to a western observer.
Aleksandr Kupriyanov, the editor of Vechernyaya Moskva(Evening Moscow), the paper belonging to the Moscow municipal government, said: "I was born under Stalin, was a young pioneer under Khrushchev, a committed communist under Brezhnev, an advocate of perestroika under Gorbachev, and now I am a government man." Like Kupriyanov, Russia and the Russian media cannot be pigeonholed, and that was the take-home message from the program.
All rights reserved by Rossiyskaya Gazeta.